Remember when your imagination seemed to be occupied by magic carpets, fairies and other Disney movie characters? What if you could jump into the screen and spend a few magical days with them? It's time to go to Walt Disney World!
The Walt Disney World Resort is the perfect way to tap into your inner child, and maybe even inspire your own child to let her imagination take her far away. Located just outside of Orlando, Disney World is the most-frequented entertainment complex in the world. With four theme parks, two water parks and a handful of other attractions, it's easy to see why. While you're wandering around the resort, here are some of the most lovable characters you ever could hope to run into.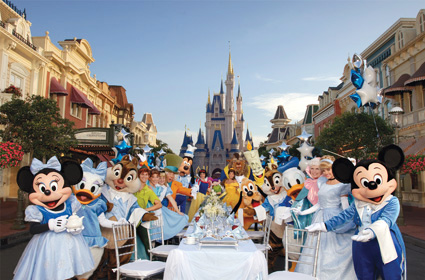 Rafiki. If you've been missing the life wisdom and happy-go-lucky trot found only in a mandrill of Pride Rock, you should indulge in the Lion King experience at Walt Disney World. Rafiki, best known as Simba's mentor, can be found at Rafiki's Planet Watch, where he can help you connect with nature, too. You can also see him at Habitat Habit and Disney's Animal Kingdom theme park.
Nemo. There's no way you watched Finding Nemo without this adorable clownfish stealing your heart, and luckily you can experience it all again in 3D by going to the musical of the same name. This show, along with the interactive fan experience of The Seas with Nemo and Friends, gives you a chance to enjoy more of his adventurous yet lovable spirit.
Captain Jack Sparrow. Little ones enjoy his whimsical charms while adults find humor in his fast talk and impeccable timing. And now both of you can meet the ultimate pirate of the Caribbean in person at Disney Hollywood Studios, where you'll find the attraction The Legend of Jack Sparrow. Children will also be amazed by Captain Jack Sparrow's Pirate Tutorial, where they can learn how to master the high seas.
Shrek. As the star of one of the most successful franchises in Disney history, Shrek makes an action-packed appearance in Shrek 4-D at Universal Studios. Complete with 'ogre-vision' glasses, this ride has enough twists and turns to keep you on the edge of your seat. After experiencing the ride, head to Production Central to get a hug and an autograph.
Mickey Mouse. Of course, no visit to Disney World is complete without getting an up close view of the flagship character. If you're a Mickey lover, you'll have plenty of activities to choose from, whether you want to have dinner at Mickey's Backyard BBQ, listen to magical tunes from Mickey's PhilharMagic stage show or shop at Maestro Mickey's. No matter which resort locations you visit, you're sure to get your fill of show business's hardest working mouse.