Italy's capital city has long captured the hearts and minds of travellers, the mythology surrounding the ancient city of Rome is evident everywhere you go. From the Pantheon to the Colosseum, Rome is chock-full full of attractions, making it the perfect long weekend destination.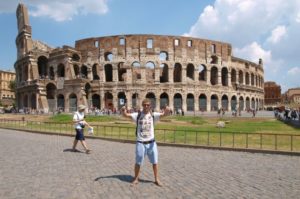 Rome is not only full of historical attraction but it is also a thriving modern city. With a range of accommodation in Rome, the city is an attractive weekend break destination.
In a city jam packed with historic building and monuments, the Pantheon is one which stands out. The Pantheon still retains the look, inside and out, that it had nearly 2,000 years ago. While other classic attractions such as the Colosseum can be described as a shell of its former self, the same can't be said about the Pantheon.
Despite the Colosseum being a shell of its former self it is still well worth the visit. Yes, the lines can be horrendous, and the overly aggressive gladiators pressuring you to pay for a photograph with them can be beyond annoying. But what visit to Rome is complete without seeing the largest remaining Roman amphitheatre?
Rome is also a unique city in that it is also home to another independent city-state. Vatican City is home to the Catholic Church and the Pope, a tour of the city-state is imperative if you wish to negotiate the Vatican museum.
With all the great accommodation in Rome, and after a full day of exploring Rome it will be time to sample the other thing the city is famous, its food. Pizza and pasta are of course at the top of the menu in Rome, check out Pizzeria Remo, a 75-year-old restaurant considered among the very best in Rome. Pizzas are baked to order.
Finally relax and explore the outdoor markets in Rome, if you have your own accommodation in Rome be sure to check out the numerous food markets. An exciting experience, where vendors are loud and the buyers have to be even louder.
Enjoy a long weekend in Rome and discover why the capital city of Italy is regularly included in the top destinations for weekend breaks.