With 11 million inhabitants, Delhi certainly doesn't disappoint when it comes to things to do. Below are five things to get you started: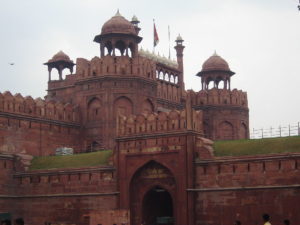 The Red Fort 
Situated in Old Delhi, The Red Fort gained its name from the Red sandstone that it is made from. An impressive 2.5km long, with a circumference of 1 and a half miles, and 33 meters high at its highest point, this building was a show of power by the Mughal emperor, Shah Jahan who instructed for it to be built in 1618. At night it is lit up, which only serves to highlight the enormity of this magnificent palace.  The inside of the compound is just as much of a delight as the outside, with some great architecture.
Humayun's tomb
Well known to be the building that inspired the design of the Taj Mahal. It is a remarkable building due its Persian architecture, carving and tile work. The tomb was built in 1565 for Humayun the second emperor of the Mughal Empire, by his wife, nine years after he died. Not only is it beautiful, it is a great place to escape the noise and grime of Delhi, enjoy some peace and quiet, read, or have a picnic. Definitely worth a visit in the evenings, the sunset gives the tomb a romantic glow, and if you are lucky there might be some live sufi music.
Paranthe wali Gali
This is a definite must for the taste buds! Paranthe wali Gali is the name of a small street that is situated in, Old Delhi. It is a bustling street, home to the infamous parantha cafes. Paranthas are a type of unleavened bread that are fried, and usually served with chutneys and pickles, a variety of potatoe and paneer curries and mash of sweet pumpkin. These cannot be missed, given they are a local dish for normal people, as well as being a world renowned gourmet food. The food is amazing and it is a great spot for watching ordinary Indians go about their daily lives. Furthermore, if you would prefer not to carry bundles of cash as you travel, it may be worth taking a credit card with you. There is a range of great deals available for travellers, so you can collect rewards points throughout your trip.
Paharganj
You can't go to Delhi without experiencing the hustle and bustle of one of Delhi's markets. One not to miss is Paharganj. This is a popular market amongst backpackers, most likely because you can pick up some great bargains. You can buy clothes, music, books, handicrafts, textiles, shoes, jewelry and lots more, don't be scared to haggle, it's what the locals do. It is also situated near a great food market, bursting with colour and the smells of spices, great for a wander.
India Gate
Take a rickshaw, an experience in itself, to India Gate, the national monument of India. This huge arch is 42 metres in height, and was inspired by the Arc de Triomphe. It was built in 1931 in memory of the 90,000 Indian soldiers that lost their lives in World War I and the second Afghan war in 1919.  The best time to visit the Arch is in the evening at the weekend, when the surrounding lawns are buzzing with locals having dinner, chatting and relaxing, a place to hang out, with a great carnival like atmosphere. The Arch is lit up at night making it all the more beautiful.