Although Kilimanjaro National Park is, understandably, best known for its famous mountain, there is much more to this reserve than just the continent's highest peak.
If you book a Kilimanjaro trip with an operator like Explore Worldwide, you will have the option of seeing more of the reserve once you return from your hike. Choose the Lemosho trek, which starts from £1,545 without flights, and you'll have the chance to go on a game drive before you leave Tanzania.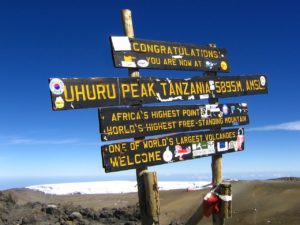 Read our guide to the national park to find out more about what there is to see and do after you've ascended to the Roof of Africa.
Kilimanjaro National Park: fact file
Kilimanjaro National Park spans approximately 1,668 sq km, and obviously surrounds the famous mountain that so many travellers climb every year.
Most summit treks begin from Moshi, which is also a good base from which to explore the reserve as a whole. There is a vast array of wildlife that inhabits the park, including 140 mammal species and 179 kinds of bird. Among them are several endangered creatures, such as the tree hyrax (a small mammal) and Abbot's duiker (a kind of antelope).
Other animals you can see on the slopes of Kilimanjaro and elsewhere in the reserve include leopards, elephants, buffaloes, colobus monkeys and elands – the largest species of antelope in the world.
There is a diverse range of habitats in Kilimanjaro National Park, thanks largely to the presence of the mountain. Tropical forests, vast areas of moorland and stretches of alpine desert are some of the landscapes you can experience when you climb the peak.
When to visit
There are two main seasons when it is best to visit Kilimanjaro, as the weather is predominantly dry and clear. The warmer of these is between December and February, although it is still pleasant from July to September, just a little cooler.
Should you be planning to attempt the summit of Kilimanjaro, it is important that you do so at a dry time of the year as the heavy rains can make some of the paths up the mountain difficult to navigate.
Activities in the national park
The main activity you can try in Kilimanjaro National Park is, not surprisingly, hiking. There are six routes to the summit, some of which take longer than others. However, there are also trails you can follow around the base of the mountain, giving you the opportunity to appreciate it from another perspective.
One place you can head to if you're keen to stride out after your ascent of Kilimanjaro is the Chala crater lake. This beautiful body of water on the south-eastern slopes of the mountain is a very peaceful spot to visit and there are walking trails that you can follow around its shores. A good tip is to head to the top of Chala hill for a great vantage point from where to admire the view of the lake below and the plains beyond.
For something totally different, you can go fishing in one of the streams that flow down from Kilimanjaro. Trout inhabit these waterways, although they are not frequently fished, so you can enjoy a tranquil day out – even if you don't manage to land a catch.
Have you spent time in the Kilimanjaro National Park after your summit attempt? What did you get up to?