There's no question that English is beyond useful as a language- it is truly becoming the universal language for business, travel, and many other areas. For non-native speakers, there are plenty of ways to learn English from childhood through adulthood and beyond! It's never too late to brush up on your English, so here are some great ways the world goes about learning English so you can take some inspiration!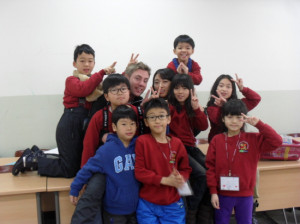 International or Bilingual Schools The fact is, there's no better way to learn a language than by being a child. Unfortunately, since we can't go back in time (yet!), this isn't an option for all of us…but you can get your children started early! An international school generally uses either British or American curriculum and foreign teachers from one of those countries to fully immerse the students in English from an early age. Bilingual schools offer education in both the country's local language and English, so there is a combination of native and foreign teachers.
Language Schools Wondering how to learn English as an adult? There are plenty of ways! Most countries have language schools where non-native speakers can sign up for a variety of English classes to meet their needs. Classes include everything from business-specific English to English for travelers, month-long crash courses to a semester or even a year or more of English. Most language schools offer small classes so each student can receive more attention from the native-speaking teacher, and evening and weekend classes are often held for working professionals.
Private Tutoring For those looking to learn English more quickly than in a group class, private tutoring is often the answer. Students have the undivided attention of a native English speaker and can tailor the lesson exactly to their needs and goals. For example, one student may desire conversation practice, while another may need help studying for an English exam and another still may want to work on their problems with English grammar. Whatever the goal may be, private tutoring is an excellent way to improve your English skills in an informal setting.
Go Abroad! The best way to learn a language is simply by being completely immersed in it! Many students of English travel to an English-speaking country to live and work for some time, whether a few months or a year or more. Au pairing is a great way to live with an English-speaking family and make some pocket money on the side. Many people study abroad for a semester or year in England or the US, or work service jobs that are a real instant immersion in English! Whatever opportunities you find, take the leap and you'll find yourself tremendously rewarded not only by your English skills but also the amazing experience of living in a different culture!