Spain is one of the most popular holiday destinations for people from the UK, it is so convenient because it is only a short flight away and there is little trouble with adjusting to the culture there. When it comes to nailing down the perfect tourist centred resorts, Spain is head and shoulders above most of it's neighbours. Millions of people choose to holiday in Spain each year, so the industry has developed in to a well oiled machine that never fails to delight everyone that visits. I personally love Spain; the sun, sea, beaches and friendly locals mean that it is one of my favourite places to fly to for a guaranteed good time. Direct holidays are always the way to go in my opinion, the people there will help you plan the perfect summer holiday in Spain.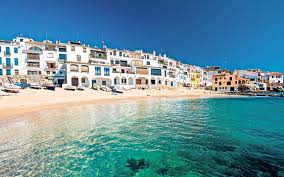 Let's be honest, with the weather who it is back home at the moment there is no better time to start thinking about your summer holiday. Knowing that you will be sat on a sandy beach soaking up the sun in the not to distant future is a sure fire way to brighten up everyone's mood and give you something that you truly look forward to. Spain is ideal for any type of holiday; a romantic break, family holiday or a group of friends, there is something here for everyone.
If you book a holiday on the coast you will have an endless list of beautiful beaches to choose from, there are beaches that cater for people that just want to kick back, relax and forget about all of the hustle and bustle of everyday life back home. Then on the flip side of that, there are also beaches that cater to people who want to have an action packed time, there are some great water sports on offer; water skiing, snorkelling, scuba diving, banana boats, jet skiing and many more activities are just waiting for the adrenaline junky in us to try.
Spain holidays are as popular as ever right now, there's a good reason for this – they are perfect! If you really want to get away you could book your trip now and be sat on a sandy beach tomorrow. We are lucky to live so close to an amazing destination like Spain that we should all take advantage of it when we can. So tell the boss the dates you want to have off, either now or tomorrow, and start thinking about which one of the lovely beachside resorts you are going to spend a week in sunning yourself!