The sovereign city-state of Singapore is most famous for its financial might and commercial activity. However, this island nation in Southeast Asia is also a popular tourist destination thanks to its history, mix of cultures, culinary delights and nightlife.
With all this and more, it's no surprise that scores of holidaymakers book flights to Singapore every year to discover and experience these captivating highlights.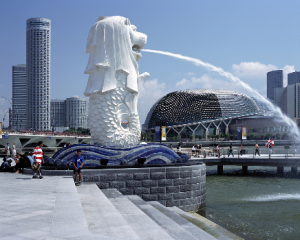 What to do

Enjoy panoramic views on the Singapore Flyer — The world's highest Ferris wheel is one of the city skyline's most noticeable features, but taking a trip on the 165 meter high Singapore Flyer provides even greater vistas. Dusk is arguably the best time to enjoy panoramic views across the Marina Bay on this 30 minute ride.
Discover Little India — 42% of Singapore's population are foreigners and they strongly influence the country's culture. Both Chinatown and Arab Street are ever-present tourist traps, but Little India should not be missed. The smell of exotic produce and spices is intoxicating while the Hindu temples and curry houses tell their own historic and contemporary stories.
Where to go

Botanic Gardens — Even though Singapore has its fair share of high-rise buildings and mesmerizing skyscrapers, this built-up city boasts beautiful green spaces as well. At the Botanic Gardens you'll find a collection of 1,000 orchid species and 2,000 hybrids in addition to lots of joggers, dog walkers and locals taking part in some tai chi.
Orchard Road — Singapore has gained recognition as an international shopping hub and there are few better places to indulge in this pastime than Orchard Road. Located a few minutes' walk away from the Colonial District, this bustling street is awash with luxury shopping malls, independent vendors, top-class restaurants and humble cafes.
Where and what to eat and drink

Hawker centers — These open-air food courts are pretty much the cheapest places to eat in Singapore (and often the most authentic too). Close to Chinatown you'll find Maxwell Road, where the seafood soup Fish Bee Hoon is a specialty. Alternatively, rub shoulders with local businessmen during lunch hours by eating some prawn satay at Lau Pa Sat.
Signature dishes – The distinctive, diverse culture of Singapore is reflected in its cuisine. For breakfast, try masala dosa — a pancake filled with vegetarian curry — a south Indian snack popular in Singapore. At lunchtime, sample some coconut-based laksa noodle soup, which usually contains prawns, chicken or tofu. Come the evening, it's time for some fresh chili crab with a tangy tomato sauce.
So whether you want to shop till you drop, embrace a collection of captivating cultures or sample some flavorsome fare, Singapore is the destination for you.