With the summer months upon us, many people will be planning outdoor activities and adventures. Ben Nevis in Scotland is the highest mountain in the United Kingdom, but is still accessible to most who are used to hiking, making it a very popular destination. If you're looking to tackle this peak, then you'll need to be properly equipped. Here's a quick run-down of what you'll need: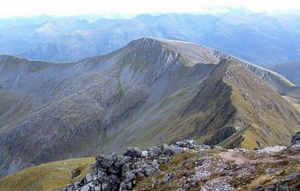 Navigation
A map is essential when you're walking somewhere like this. It's a well-travelled mountain, but there are areas, especially near the summit, which are very difficult to navigate without a map and crucially a compass. The OS Landranger map is the most accurate and detailed that you can buy. Don't rely on your smartphone for maps or the built-in compass, as you never known if you'll have signal or battery for the whole journey.
Clothing
British summer weather is notoriously unpredictable, so you need to be prepared for a variety of eventualities. Layering is the best way of ensuring you're ready for anything; have a base layer to wick away sweat, outer layers for warmth if you need them, and a waterproof layer on top. E-Outdoor has a good selection of this kind of clothing.
You'll probably be quite warm from walking, even as you approach the colder peak, so don't pack too heavily. Being too hot can be really very uncomfortable. Make sure you've also got a sturdy pair of hiking boots or shoes – you'll need some grip if it's wet or your route takes you up scree.
Food
It can take a good nine hours to walk the summit and back, so you'll need food. Make sure that it's rich in energy and doesn't take up too much space in your bag. Trail bars are an excellent idea. You'll also need plenty of liquid, as it can get quite warm when you're walking – most recommend about three litres of water for the whole journey. Bags with straws are usually useful for this, as they aren't as awkward to carry as large bottles.
Emergency Supplies
You never know what might happen when you're on the side of a mountain – mists can descend very quickly and accidents do happen every season. You should be prepared for everything from minor cuts and grazes to broken bones. This means having a basic first aid kit, and crucially, an emergency blanket which will help keep anyone warm if immobile.