Yangon, the former capital of Myanmar, is a city that, for the moment, is still very "Burmese" but now has the challenge of accommodating the growing number of expats and visitors to the city. A large part of that challenge is the food, because, typically, most people don't want to eat mohinga every day for breakfast.
So if you're planning on visiting this emerging hot spot before the rest of the world does, here are some great places to eat, organized by how much you'd like to spend for your meal that day.
Note: The way we organized the restaurants is to look at the average price of a dish; some dishes on the menu maybe lower or higher than the range we placed them in.
Budget (≤ K3000)
Without a doubt the cheapest (and fastest) places to find a good meal are the countless street restaurants that are found throughout Yangon, but if you need a little help on choosing the best, here are some suggestions.
999 Shan Noodle Shop
The restaurant is quick, clean, centrally located near the Sule Pagoda, and specializes in a variety of delicious Shan dishes. The service is great, the owners speak English, and the menu has pictures with English descriptions.
130 B 34th Street, between Se Pin Street and Anawratha Road; Open until 7PM
Nilar Biryani
Nilar Biryani is small Indian street restaurant, also nearby the Sule Pagoda. The menu itself is quite limited: they only offer chicken, mutton, and vegetable biryani. The service is very quick and the menu is extremely easy to navigate – just point at one of the biryani vats in the front.
216 Anawratha Road; Open 9AM – 9PM
Mid-Range (K3000 ≤ K10000)
Onyx
Tricky to find, but if you want to a great Western and Korean food restaurant at affordable prices, Onyx is worth the search. They have some of the most reasonably priced steaks in the city, not to mention a good wine selection.
About 50m down a small street off Dhammazedi Road, 95 0152 4271, 95 9507 1847; Open 11am-11pm, except Sundays 6pm-11pm
Pandonmar Restaurant
Burmese and Thai food are served in this renovated colonial house. Taking their food very seriously, the restaurant even has a separate kitchen for each type of cuisine. You can dine in the garden or in one of their many decadent dining rooms.
105/107 Kha Yae Bin Road, (near Governor's Residence), 95 0153 8895; Open 11am to 11pm
50th Street Bar and Grill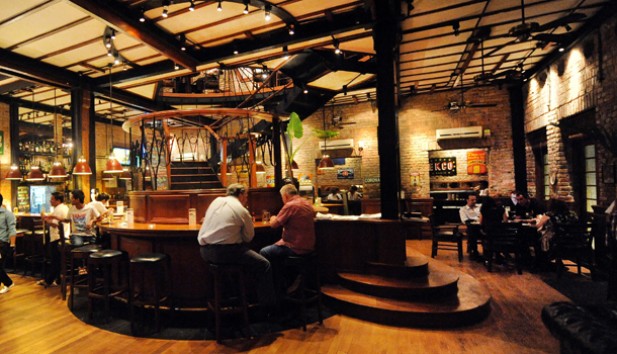 Definitely an expat hangout, the 50th Street Bar and Grill has the feel of a Western sports bar that many may miss on their travels. Serving Western style food, the bar also offers darts, pool, and wide screen TVs to watch international sporting events.
9/13 50th Street, 95 0139 7060, Opens Mon-Fri 11am – Late, Sat-Sun 10:30am – Late
Moderate (K10000 ≤ K20000)
Pyongyang Koryo
Something you would have not expected in Yangon is a Korean restaurant owned by the North Korean government. For a feel of North Korea, customers are watched through hidden CCTV cameras. They also offer karaoke rooms to be rented by the hour.
A-5 Saya San Road
Monsoon
This colonial town house restaurant serves Burmese, Vietnamese, Thai, Lao, Cambodian, and Western cuisine. The customers includes expats, business people as well as tourists. On the third floor there is even a handcrafts shop.
85-87 Theinbyu Road, 95 0129 5224; Opens 10am – 11pm
House of Memories
If you like a little history lesson while dining, House of Memories is the place to go. Situated in a colonial house that General Aung San lived in, the restaurant serves Burmese, Thai, and Western food, but is most famous for its Burmese dishes. Pictures from Myanmar's past are on the walls throughout the house.
290 U Wizara Road, 95 0152 5195; Opens 11am – 11pm
Thiripyitsaya Sky Bistro
This bistro offers a panoramic view of Yangon along with dinner, and sits on the 20th floor of the Sakura Tower. They serve Western, Asian, and Burmese cuisine.
20th Floor, Sakura Tower, 339 Bogyoke Aung San Road, 95 0125 5255; Café:  9am – 6pm, Bar 6pm-10pm
Shwe Sa Bwe
A restaurant and a school for aspiring chefs drawn from young, underpriviledged Burmese students, Shwe Sa Bwe serves fine French cuisine for dinner and bistro style food for lunch. The dinner menu changes every 2 weeks and the lunch menu changes every week to keep happy customers returning for new dishes.
20 Malikha Road, 95 0166 1983; Opens Lunch 12pm -2pm (Mon- Sat), Dinner 6pm – 930pm (Daily)
Sharky's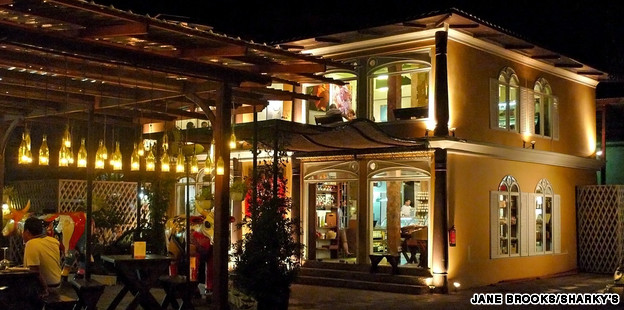 Famous for their cheese, ice cream, and locally grown food, Sharky's serves some of the best Western food in the city. Founded by a Burmese man who lived for 25 years in Switzerland before returning home to Myanmar, the restaurant and its food are reflections of his experience in Europe.
117 Dhamazedi Road, 95 0152 4677; Opens 9am – 10pm
Expensive (≥ K20000)
Le Planteur
Le Planteur has some of the finest French cuisine in the city and, not surprisingly, the prices reflect that as well, with the menu priced only in USD. The restaurant is in a red brick mansion with a garden used for dining when not in rainy season. There is a remarkable selection of cheese and wine as well.
22 Kaba Aye Pagoda Road, 95 0154 1977; Opens Lunch 12pm-2pm, Dinner 6pm-11pm
L'Opera
Next to Inya Lake, this Italian restaurant is located within a colonial building with gardens that stretch to the banks of Inya Lake. Some notable dishes include wood fired oven pizzas and homemade pasta all served with fine Italian wine.
62D U Htun Nyein Street, 95 0166 5516; Opens Lunch 11am-2pm, Dinner 6pm-10:30pm