A pop-up camper, also called a variety of other things such as trailer tents, folding caravan and folding camper, does exactly what it says on the tin. As you can imagine, a pop-up camper looks like a tent on a trailer. You use a hand crank or hydraulic lift to open up the top of the camper, slides are slid out, and the tent is on its way to being set up.  It can take some time to set up, but it remains an attractive purchase because they are relatively inexpensive to buy and don't take up much space.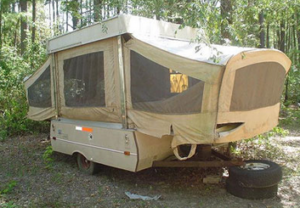 The Advantages of a Pop-Up Camper 
There are many advantages to the pop-up camper, mainly to do with their size and weight. The pop-up camper is also very reasonably priced, making it a good purchase for first time campers, or families who are on a budget.
Pop-up campers weigh less than a proper camper, as they have canvas sides (like a tent) and therefore smaller cars are able to tow them. Because they fold down, they have a low profile, making them much easier to tow. They don't obstruct the driver's view, so there is no need for extended side view mirrors.
Storing a pop-up camper is far easier than storing a regular camper, as it can be stored easily in the garage as opposed to needing an outside space or pitch.
A pop-up camper is more comfortable than a tent as it isn't pitched on to the ground- and any bedding can be stored within the folded down trailer. Most have heating units, some have a bathroom section, televisions, ovens and more. They come in a range of sizes, so you're bound to find one perfect for the number of people you need to sleep. Some may even come with awnings or slide outs, so you can extend and expand the amount of space.
The Disadvantages of a Pop-Up Camper   
The main disadvantage of a pop-up camper is the amount of time it takes to set up and take down. If you get frustrated and tired putting a tent up, then you will with a pop-up camper, and you'll get jealous of the person with a caravan who simply has to level, anchor and hook up their caravan for it to be usable. You can't fold down your camper and put it into storage if it's wet, as it may rot or grow fungus or mildew.
Amenities will be limited in comparison to a regular caravan; however, it will be quite an improvement on a tent.
You will need to insure your pop-up camper against any unexpected circumstances such as damage whilst towing. Check out http://www.towergateinsurance.co.uk for trailer tent insurance that will give you peace of mind for your holidays.
There are many advantages to a pop-up camper, especially when it comes to towing and storing, but if you aren't the patient type then it may not be for you.