With golden beaches and inviting clear blue waters, it is easy to see why Praia da Rocha has been a popular holiday destination for years. With stunning vistas, wonderful hotels and apartments, a host of activities and entertainment, and night life to rival Europe's hottest party places, this area of Portugal has a great deal going for it for families, couples and groups.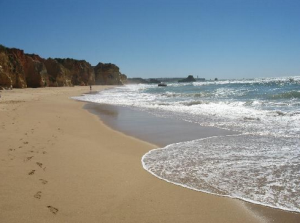 Less than three hours from the UK, and with great bargains available from Co-op Travel for those who hope to visit it, Praia da Rocha is perfect for those looking for a luxurious five-star stay, or friends relaxing after their exams in a budget self-catering apartment. With great all inclusive deals too, everyone is perfectly looked after.
Of course, the really big draw for Praia da Rocha is its warming sun, which the wonderful Algarve has in abundance right through the year. This makes it just the perfect resort location for family holidays, with Praia da Rocha having those wide and sprawling beaches on which kids and mum and dad can spend hours each day relaxing and playing.
Located on the west of the Algarve, this is also far more than a simple beach holiday, with a host of activities to enjoy. A particular highlight for families is Zoomarine, which offers you the chance to swim with dolphins – something everyone should try given the chance.
For couples too, Praia da Rocha makes for a wonderful place to visit on holiday, with the relaxing beaches again a big draw. There are also some stunningly intimate coves to discover along gentle coastal walks while having a nice romantic break away from the crowds. With the mountains to hike into too, and a host of bars and restaurants, it makes for a perfect first holiday getaway together.
As much as Praia da Rocha is ideal for families and couples, it is also spot on for groups. With a number of hotels specifically engineered to look after groups, and resorts that keep going from dawn until dusk, the party spirit here is almost never-ending.
There are also a great many activities for the daytime as well, with golf and the western Algarve always mentioned in the same sentence. With excellent water sports along the coast line too, and those restaurants that have great deals for groups, friends could well have their best holiday here.
No matter what you are after from a holiday, Praia da Rocha will likely have it. From relaxing beach holidays to adventure and partying at night, you can do it here. It is simply one of the best summer holiday destinations around.