Everyone knows the mainstream destinations abroad; frequent flights, loads of people, crowded everything. Convenience is never to be underestimated – that much is true – but venturing just a little bit off the beaten path can lead you to cheap holidays abroad that are authentic, charming and quiet.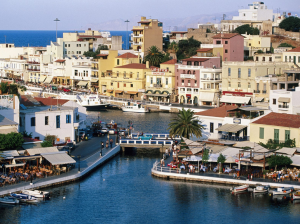 Getting off the beaten path is easy these days. With inexpensive flights all over Europe, the formerly isolated and unknown pockets of the continent are revealed.
The southernmost of the Greek Islands, Crete is the largest and the most distinctive. The Island boasts ancient cities, stunning mountains, undiscovered beaches and endless outdoor activities, but rarely does it feel overrun with tourists or inauthentic in any way.
Crete's distinct character tells visitors a story; about Greece, about the island itself and about its people. Visitors can easily find themselves sea kayaking by day and dancing by night in any number of charming tavernas and bars that are open all hours. Crete is an authentic corner of Greece that is sure to delight all those who venture there.
Eastern Europe is often overlooked as a holiday destination as most tourists tend to flock West but for those who dare venture; Lake Bled, Slovenia offers an experience you'll never forget.
The Lake itself is an Alpine one located just outside the town of Ljubljana and its stunningly picturesque location is undeniable. Visitors can travel to an island church, wander on a walking trail around the lake or even be pampered at a spa or resort. There are ample activities on offer from winter to summer for all types of tourists with every season delivering something special.
As part of the former Soviet Union, Estonia has undergone significant changes in recent years and a visit to this incredible country will reveal both a controversial past and a very bright future.
The Capital of Tallin is quite popular among tourists with its orange tiled roofs and medieval walls but just a few hours by bus to the south lies the pulse of Estonia, the student capital of the country -Tartu.
Full of life and energy, Tartu offers a glimpse of a young population navigating a new country's future.  The people are friendly and eager to practice their English and the scenery is stunning in any season.
Europe is full of stories, some are more well-known than others but often times the stories that few know about are the most memorable.