Greece is a country known for its mind-blowing ancient ruins, warm and sunny beaches, friendly people and delicious food. It's landscape is quite unique, made up of a very rugged and mountainous mainland, with hundreds of islands each with its own unique flavor and vibe. So whatever you're searching for on your holiday, whether it's cultural exploration, beach-side relaxation, bumping nightlife or some of the best food in the world, you will find it in Greece. It's easy to book a holiday to Greece, so don't wait another minute and start planning yours today. And make sure to check out these great places while you're there:
Athens
"The cradle of civilization," as it's often known, Athens is a must-see destination when you're Greece. It's one of the most ancient capitals in the world and just filled with ancient ruins and a culture like nowhere else. It presents a fascinating contrast of modern and historical elements, blending thousands-year-old buildings with modern places like Starbucks! Don't miss a visit to the Akropolis, Pantheon and Ancient Agora. Delphi is a fascinating day trip away as well.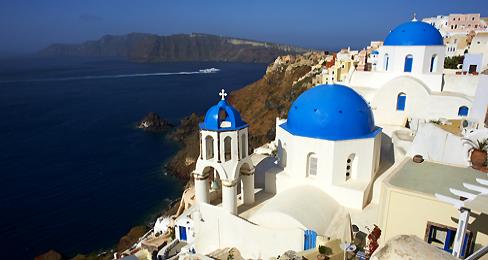 Santorini
When many people think of the Greek islands, they picture the stunning blue-domed white churches staggering up the cliffside against a crystal-clear turquoise sea. This vision is what you'll find on Santorini, one of the most picturesque and exquisitely beautiful islands in the entire world. Arrive here on an over night boat from Athens, and you'll be treated to watching the sun rise over the blue-domed churches while on the island.
Mykonos
If you're looking for a lively nightlife scene and plenty of people to meet while in Greece, head over to Mykonos as it's one of the most popular Greek islands for tourists to visit. The modern society here is mixed with ancient whitewashed buildings, giving the island an interesting feel. There's plenty to see, do, eat and enjoy while you're here, including stunning beaches and too many great restaurants and bars to count.
Crete
Crete is an island with beautiful natural landscapes ranging from rugged mountains to lush forests and of course, white sandy beaches. It's the largest of the Greek islands and so it offers a wide variety of different vibes and atmospheres. There are bustling cities as well as more laid-back villages and beach towns if you really want to escape it all. You'll find fishing boats, ancient ruins and plenty of social life if that's what you're looking for here.