Backpacking in Europe is the quintessential "just finished school" trip—but these days, it's also becoming a popular trip for people who are looking to explore the world or to escape the mundane life that they live back home. Whatever your reasons are, you're guaranteed to have a fun and rewarding trip. But when looking at a map of Europe, you may be wondering where exactly to start. Europe occupies a huge stretch of land, and each country has its own unique flavor. Here are our favorites: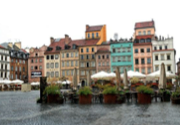 Poland
This country has some fantastic architecture and fascinating culture—and what's more, it can be a cheap place to travel around as well. Note, though: as the country becomes more of a mainstream place to visit, not all of Poland will be as cheap as the rest of Eastern Europe, unfortunately. You've got your choice of cities: Gdansk, Poznan, Warsaw, Krakow, and more. If you're interested in recent history, check out the chilling Auschwitz and Birkenau, former concentration camps near Krakow. But you could spend weeks travelling around just this country, so make sure you include at least parts of the country in your itinerary!
Hungary
Of course, everyone has heard of Budapest and seen pictures of its impressive Parliament building, but there's more to the country than that. Budapest itself has plenty of sites both historic and modern, from museums to markets to thermal baths. Or you could also check out Szeged or Debrecen, both of which are university towns. Or for a closer look at what the country has to offer, check out some of the smaller villages near Budapest—Szentendre or Godollo. This country has a lot more to offer than goulash and babushkas!
Italy
Of course, no list of backpacking places would be complete without mention of Italy. Not only is the country famous for its food and wine, but it's also famous for its landscapes. North or South, East or West, you'll have a fabulous time checking out Italian cities. Check out Rome or Venice or Florence or Torino or Pisa or… Well, we could go on for days listing off places. Really, you're best to just spend a couple years travelling around this country alone!
Turkey
If you're interested in history, head to Turkey. The capital city, Istanbul, is a former capital of the Roman Empire (then, it was called Constantinople), and today, you can check out the Hagia Sofia, Blue Mosque, the market, and many other interesting sites. Really, Istanbul has something for everyone, but beyond that, head to Cappadocia for some amazing hot air ballooning, or to Bursa for some more excellent Roman ruins. You'll find that the prices are often on par with Western Europe when you're in the cities, but if you get out into the countryside, it's a cheap enough place to visit.
Greece
Greece should be on every traveler's bucket list. In Athens and the surrounding towns, you'll be able to see ancient ruins dating back thousands of years. Or you could head out to the islands like Santorini or Rhodes and mix your history with a bit of good fun, entertainment, and natural beauty. At the moment, Greece is relying heavily on tourism to fuel its economy, so even though it's part of the Eurozone, you might find cheaper prices than you do elsewhere. But regardless of prices, Greece is a country not to be missed!
Slovenia
Slovenia is too often overlooked as a place to visit in Europe, but it shouldn't be. Ljubljana, the capital city, is pretty small, but head up to Lake Bled or anywhere else in the mountains and be prepared to be amazed. This area will offer you some great hiking in the Julian Alps, and even if hiking isn't your thing, it's a great place to take some pictures and enjoy the fresh air. Located at the crossroads of Italy and Central Europe, the food is excellent, and the architecture can also be interesting, but really, you're here for the splendid outdoors. If you're willing to take the bus, you'll find that it's a cheap and easy ride from many cities, such as Budapest or Vienna.
Of course, there are always the more traditional places of Europe for backpacking—Spain, France, Germany, the UK, or more. Or you could head to places that are a bit more off the beaten path, like the Balkans or Lithuania, Latvia, and Estonia. Really, you can't go wrong with wherever you choose. Got some time? Snag a VPN for your computer so you can stream Netflix abroad and check out Rick Steve's shows about Europe. This will help you narrow down your choices and really make the perfect backpacking itinerary.