The Museo Picasso is one of Malaga's most popular attractions, pulling in well over a quarter of a million visitors a year. And rightfully so – not only is the building beautifully designed with light and airy galleries as well as external gardens, it's also home to some of the most distinct collections created by the man himself.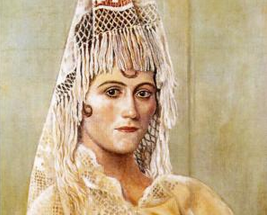 Each piece of artwork is accompanied by an extensive history detailing how it came into existence, meaning that even long-standing enthusiasts of Picasso are likely to find out one or two things they didn't already know. With flights to Malaga from several UK cities including Manchester, the venue is easier to reach than ever before. So go on – treat yourself to a weekend in this spectacular city and indulge in some artistic culture. See below for the top pieces to survey at the Museo Picasso.
Olga Khokhlova with a Mantilla
Picasso's piece Olga Khokhlova with a Mantilla features a beautifully-painted woman with soft features wearing some intricately-designed headgear. It's absolutely stunning and one of those paintings that you could observe every day and find a new detail. But discovering the history of the piece is equally as satisfying as looking at it.
Picasso travelled to Rome in February 1917 where he was commissioned to design the costumes and stage sets for a production of Parade. After he painted Russian ballerina Olga Khokhlova wearing one of his costumes, the pair of them embarked on a highly passionate love affair. He later gave the oil painting itself to his mother as a gift, after introducing Olga as his future wife.
Fruit Bowl
The Fruit Bowl is an excellent example of Picasso taking a traditional artistic motif (in this case still life) and turning it on its head. With the pieces of fruit rendered flat in his trademark collage and cubism style, it's a stellar piece of art that transcends the ages and still fascinates art scholars to date. See if you can spot where he has hidden the bunch of black grapes.
Acrobat
One of the most bizarre forms of the human body you're ever likely to come across, Picasso's Acrobat is an insight into the weird and wonderful things the man saw in everyday life. It's a unique view of looking at the human body and was painted as part of a series during the winter of 1929-30 when the artist revisited his earlier theme of acrobatics.
It is speculated that his inspirations for such a bizarre piece came from The Apocalypse of Saint-Sever and the engraving of a female figure from the Hathor Temple at Dendera, although viewers are encouraged to construct their own opinions.
Other attractions
These choices represent but a sample of the incredible art on display at the Museo Picasso Malaga. There are more than 200 incredible paintings on display, each one donated by a member of Picasso's family. The venue also hosts various works from other artists from time to time in the form of temporary exhibits, so it's worth checking out even if you've been before.
With Picasso's strong connections to Barcelona and France, it's often forgotten that he was actually born in Malaga. Help keep the memory alive by visiting this extraordinary museum.