Flying long-haul can be a pain, there's no denying that fact. Hours spent in the air is more often than not quite boring, and if you don't plan a few activities to pass the time, and occupy yourself in the meantime, you can find your eyes drifting to the in-flight map, which only makes you feel like you're stuck in a time-warp!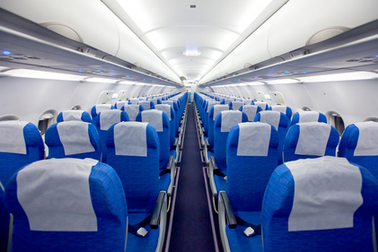 When it comes to having a positive experience of long-haul travel, it's all about being organised, and it's also important to keep your stress levels down to a minimum, and to look after your health in the air too. I shouldn't have to remind you to make sure your travel plans are insured, should I? This is probably one of the most important parts of any travel, so take out the need to keep thinking about it by purchasing an annual insurance policy, checking your destination fits in with the guidelines, and declaring any pre-existing conditions; with that done, you're free to look forward to your travels!
I'm a big fan of booking an airport hotel the night before a long-haul flight, because it's important to stock up on sleep before the jet-lag hits, and it also adds an extra night to your holiday, which is no bad thing! No matter where you fly from, you're sure to find a selection of hotels to suit your needs, including great value Dublin Airport hotels from Holiday Extras for those flights from the Emerald Isle. Having the chance to relax the night before you leave, rather than rushing around and turning up at the check-in desk ready to fall asleep, is the best possible start.
Of course, whilst you're in the air, you need to remember a few health issues. If you're at all at risk of DVT, speak to your GP before you go, and remember to wear compression stockings. Fashionable they're not, but put them under a pair of trousers or a long skirt, and nobody will ever know the difference! In addition to that, drink plenty of fluids, preferably juice or water, and get up and have a wander around the cabin on a regular basis. This also has the added bonus of wasting a bit of time!
In terms of entertainment to pass the time, well, you should have in-flight entertainment of some variety, so take advantage of that. Don't be tempted to look at that aforementioned flight map, if you have one, because believe me, you'll feel like you're not travelling anywhere at a decent speed! Instead, keep your mind occupied with a book, magazine, watch a few films, listen to music, play games etc. iPads and tablets were made for long-haul flying, so get yours charged right up, switching it to flight mode in advance.
The boredom and inconvenience of long-haul flying is the price we pay for visiting such amazing sights, but really, it's worth every second.