Lake Tahoe calls both California and Nevada home, and the areas that surround this famous freshwater lake are an outdoorsman's dreams. From winters filled with skiing and summers filled with hikes and bikes, and of course people looking for a great time out on the largest alpine lake in North America are in for a great time when they head to Tahoe. The Lake divides the area into what are known as South Lake Tahoe and North Lake Tahoe, and year-round, and many people call this their home away from home, or just this weekend's adventure. Every season, hotels in Lake Tahoe cater to travelers looking for all kinds of adventures and accommodate them accordingly with special deals and insider access and rentals for all the best things to check out. There are tons of things to do in Lake Tahoe, and so it became America's favorite year-round destination!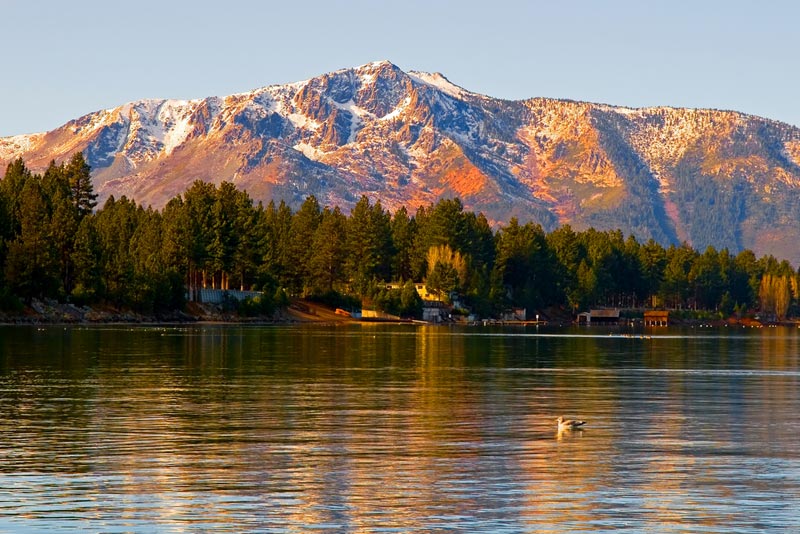 Skiing in Tahoe
Lake Tahoe is home to 18 world-class ski resorts. Whether it's your first time on a pair of skis or snowboard or you're a self-proclaimed (or actually proclaimed) professional, you're going to find at least one ski resort that really sticks with you. Many of these ski resorts have thousands of acres of skiable terrain for every level skier or boarder and a number of lifts that make your time out on the slopes well spent. For some of the best view, check out the panoramic scenery at Heavenly Mountain. For a great value, one lift ticket gets you access to over 6,000 combined acres at the co-owned ski resorts Alpine Meadows and Squaw Valley. Northstar California pretty much has it all if you're looking for a full resort feel.
Hiking Around Tahoe
When the snow melts and the temperatures rise, it's time to pull on those hiking boots and strap on your CamelBak Pack. Hiking trails around the Tahoe area range from beginner walks that get you away for an hour to day long hikes with steep terrain that require a lot of guts. Some of the most popular short hikes include Eagle Falls, Emerald Bay, the Glacier Meadow Loop, Rubicon Trail and Tunnel Creek Station.
Biking Through Tahoe
There are tons of spots to explore Tahoe by bike, whether it's on some of the local bike paths that run along the Lake or mountain biking through the beautiful trails. Most of the bike paths are open from Memorial Day to Labor Day and are well maintained throughout the season, but the regular biking season runs from sometime in July to about the end of November in many cases.
Getting out on the Lake
The largest alpine lake in North America deserves at least a few hours of your time during any season. Fishing is a year round activity in Lake Tahoe, so whether you're out on a fishing charter or just dropping a line near the shore, you'll probably head home with a delicious dinner. The rest of the time can be dedicated to kayaking, paddle boarding, wake surfing and whitewater rafter along the rivers in the area.
Tying the Knot
The surrounding mountains and crystal clear waters of the lake also make Tahoe a top destination of outdoor weddings. Even last minute weddings can easily be accommodated if all the beauty of the area stirs up some feelings for your significant others on your travels together.
It's not hard to find an epic way to occupy your time in Tahoe, and it's not unlikely that you'll be tempted to come back more than once to try even more next time.
This article was written by Lizz Riggs, editor of TahoesBest.com.