From the exquisite views of Rainbow Falls at Wailuku River State Park to the eye-popping wingspan of the manta rays off the Kona Coast (some as big as 20-feet or more!), the Big Island never ceases to amaze us…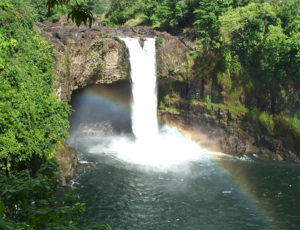 My family and I save year-round until we finally have enough to take an epic vacation.  Hawaii has been our pick two years in a row now for more reasons than I can count.  Every time we go it feels like the first time.  There are so many pockets of adventure to be had and so many islands to have them on, that the fun never seems to stop.
My husband and I are adventurers.  When we're not working 9-5's and running errands for our kids, we're always seeking the next adventure to be had.  Unfortunately it doesn't come too often.
Everybody deserves a break from their daily routine and in fact studies have shown that the average person is more stress free and lives a happier, longer life when they incorporate relaxation into their lives.  Now for some people this might mean going to the gym daily, or taking yoga or meditation classes.  I personally don't have time in my day-to-day to relax.  I am always moving from A to B to C and back around with no time for a meditation session.
I work hard to support my family and luckily for me there's a pay-off.  If I work hard every day that means that eventually, we'll have saved up enough money to pick up and go.
What's great about Hawaii is that it's the perfect combination of adventure and relaxation.  You can plan activities from A to Z and at the end of the day there is always room in your schedule for a relaxing day on the beach or by the pool.
The Big Island houses 5 of the largest volcanoes ranging from the oldest to the most active in the world.  All 5 volcanoes combine to create the largest of the Hawaiian Islands and the tallest sea mountain in the world (Maunakea).  We decided to take advantage of these world wonders and explore the island from its source.
At the summit of Kilauea, one of the most active volcanoes in the world, lays the Namakanipaio Campground where you can enter for almost nothing and camp out.  We loved waking up to the views of the craters and summits and breathtaking sunrises in the park.  The  Hawaii Volcano house offers another unique way of camping if you're not quite as rough and tumble.
The Big Island has so much to offer in the way of nature's gifts, and it is one of the only ways for me to truly relax my mind and put my daily burdens aside.  It is so easy to let yourself unwind and recharge those batteries to send yourself flying back to your reality with some new peace of mind!