The largest and most southern of the Greek islands, a Crete holiday will provide a memorable vacation for anyone who chooses to visit. With its golden beaches and azure waters, alongside the multitude of culture and history for anyone with a penchant for learning, Crete can provide much more for holiday-goers than just sun, sea and sand.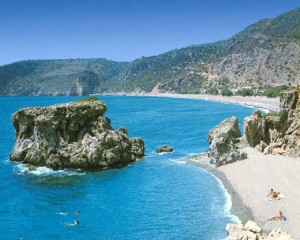 The White Mountains in the west offer travellers a reason to explore the outdoors. With a vast array of trails in the mountains, from leisurely strolls to more challenging hikes, you can experience the natural beauty of this wondrous island from the dizzy heights of mountainous terrain.
Venture inland to experience authentic Cretan life. Take an afternoon away from the tourist hubbub on the coast and discover the inland rustic villages.
As for the top holiday resorts, you can choose from:
–        Hersonissos – A bustling resort with a whole host of restaurants providing traditional Greek culinary delights. With plenty of space to sunbathe, and the opportunity to partake in some watersport action, this resort has so much to offer. Be sure to have a go at scuba diving during your stay here.
–        Stalis – Perfect for families, with beautiful beaches and some quality shops. There's also plenty to do if you're looking for thrills, including canoes, jetskis and diving equipment all for hire.
–        Gouves – One for the visitors who are after a quiet life. Beautifully tranquil and a perfect destination to relax, chill and de-stress.
Opt for a short haul sojourn in summer 2013 and choose Crete as a base. If you have the time and the cash, you can choose a long haul adventure instead, perhaps – there are Florida holiday deals that can mean an affordable magical stay. Whatever destination you choose, be sure to check online and snap up any of the fabulous deals that are on offer.