Vanilla Cupcake Bakery, Metro Manila
Source: Vanilla Cupcake Bakery Website
Forget about having a certain set of uniform looking chairs tables, and enjoy the cute and mixed designs of the seats at Vanilla Cupcake Bakery. The tables and chairs are not the only things that are unique, so is the decor of the bakery. The walls of the cafe are covered with different quotes that you can read while you enjoy your coffee. Its relaxing ambiance is ideal for meeting with friends, especially the ladies. Another surprise that awaits when you visit this cute cafe, is its bathroom that looks like a backyard. It even has a bicycle inside, to make it look even more realistic.
Horror Picture Tea, Paris
This trendy place combines a cafe, a music venue, and a tattoo parlor. Horror Picture Tea serves delicious desserts and eerie tattoos. It also has live band performances and an urban art gallery.
3.The Sweatshop, Paris
The Sweatshop in Paris combines coffee and crafts to give you a one-of-a-kind experience where you can keep your hand busy stitching the latest in French fashion when it's not busy in holding on to your coffee cup.
Urban Station, Buenos Aires

Source: Urban Station Twitter Account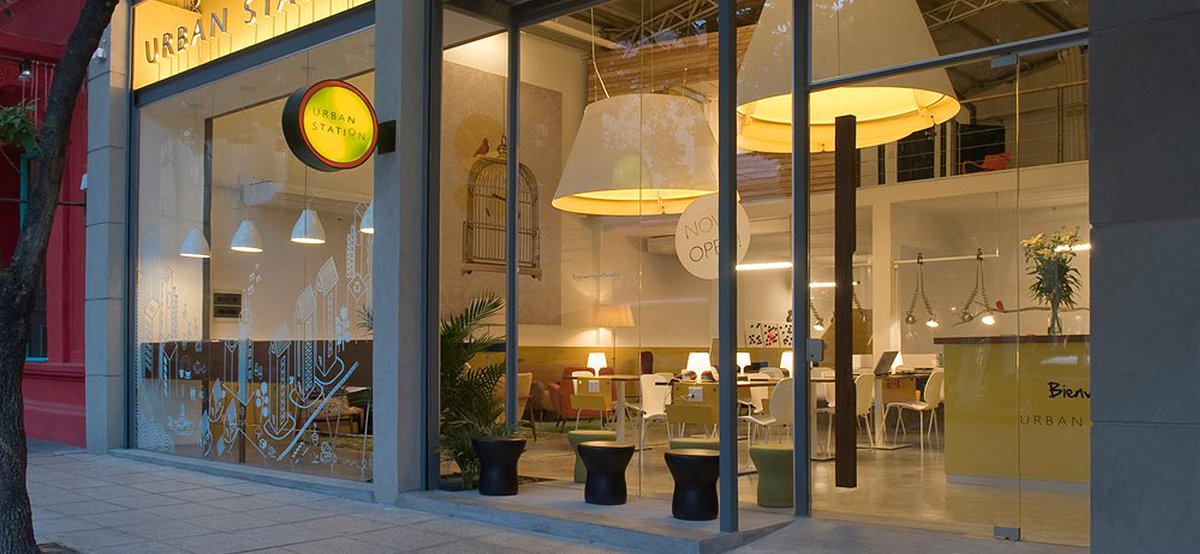 This coffee shop in Buenos Aires is a dream come true for those students, writers, freelancers and readers who just love to do their things while enjoying the scent of coffee in an office setting. The Urban Station is well equipped with electrical outlets, spacious tables and wi-fi access.
Mahika Mano, Tokyo
Source: Mahika Mano Website
This Japanese cafe gives you a very relaxing and island feel. It combines a laid-back coffee shop atmosphere and a hammock showroom. You can enjoy your drinks while sitting on a full-throttled hammock or a reclining rope chair
Neko no Mise, Tokyo

Source: Neko no Mise Blog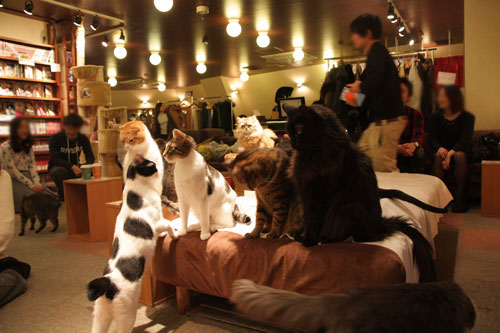 These neko (Japanese term for "cat") cafes originated from Taiwan and were imported to Tokyo. These cafes allow their customers to enjoy their cup of coffee in the company of these furry friends. At first glance this cafe looks normal with some customers who are busy reading a manga or magazine while sipping their coffee but if you take a closer look, you will notice something furry cozily lying on top of the tables or coffee makers. The Neko no Mise has been popular dating spot and a place for many cat bloggers.
Wheeler's Yard, Singapore

Source: Singapore Guide Website

Wheeler's Yard is one of the popular cafes in Singapore. It is unique because of its in-house bicycle atelier but some cyclists might see it as a bicycle workshop with an in-house cafe because unlike many cafes, Wheeler's Yard has the size of a big warehouse (high ceiling, wide spaces, vintage decorations and posh-looking bicycles. The patrons of this cafe can choose whether they'll sit outdoors or indoors.
Vintage Emporium, London
Looking for a nostalgic place where you can work while listening to some old records? Vintage Emporium in London is the right place for you. It is a Victorian style cafe which also serves as an antique boutique. Feel at home while you work, surrounded by old record players and the relics of a bygone era.
D'Espresso Coffee Shop, New York

Source: Nemaworkshop Website

This should definitely be included in your list of you love coffee and books. While it's not actually displaying real books and shelves, this design gimmick by Anurag Nema and his "nemaworkshop" team, was made by strategically placing the tiles on the walls and floor to make the patrons feel like they've entered Wonderland.
Logomo Cafe
Logomo Cafe sports a unique mind bending design, quite similar to that of Tobias Rehberger's cafeteria in Palazzo delle Esposizioni, but more minimalistic and elegant. Created in collaboration with Artek, the cafe is painted white with criss-crossing lines with a single popping orange streak running through its center.
This article on FlightHub Reviews 10 Cafes with Unique Themes is brought to you by FlightHub.
Check out FlightHub.com or download FlightHub app to find the cheapest deals to get to these destinations, so you can sit back, chill and sip your coffee. Have a good time!