Planning a family week to somewhere exciting, inspiring and simply exquisite? Get lost in Sicily's art, history, food, beaches and ride up a volcano, too! To find a suitable accommodation , there are many family-friendly holiday villas in Sicily that you can find on platforms like Wishsicily.com where a big collection of quality villas are available at a good price for a perfect holiday with your family, so don't worry.  Just go!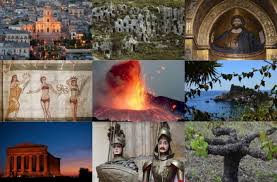 Beach Tour
Go swimming and surfing in the beaches or maybe just sight-seeing? The best beach is probably that of San Vito Lo Capo in the west, in Trapani. There's a lagoon worth the stop and a small archipelago inside. The most popular though is Mondello's beach since it is accessible form the capital city, Palermo. But there's a long endless sandy beach and dunes from Scoglitti to Marina di Modica.
A coastline drive is an exhilarating option to check the many waters around. There are a whole lot of them and one is never really far away!
Food Trip
Forget the beaches for a while and taste the exceptional cuisine of long history. Allow the food to direct you in experiencing the rich culinary satisfaction you will find in Ragusa and Taormina. There are various restaurants and cafes that are a mix of the past and present style of cooking. There is an abundance of street food, pizzas and pastas, too. Hop in a bar and have the finest wine, Nero D'Avola, which is made of grapes that remained as they are for many years.
In Modica, savor chocolate desserts and have cannoli to finish your meal. Try the very popular cow's milk cheese, Ciocavallo ragusano. A day or two could be spent tasting the local flavors from Michelin-starred restaurants to simple street foods. Buon appetito!
Art and History Immersion
Having been ruled by a multicultural society, Sicily is very rich with heritage. Walk around Palermo's historical markets Borgo Vecchio, Ballarò, Vucciria, and Il Capo,. There are various art and an abundance of fruits and vegetables for you to shop. Stroll Piazza Armenia, the Lombardic town and visit Syracuse, the birth place of Archimedes where Ortigia, the ruins of the Temple of Athena, is located. In Argigento, there is a stunning historical excavation of the ancient Valley of Temples. You could also visit a handful of galleries and museums like the Pasqualino Marionette Museum which has a large collection of Marionettes.
The Great Outdoors
Hike in the four natural parks; Etna, Nebrodi, Madonie and Alcantara or a ferry ride on the Aeolian islands. If medieval castles are your thing, the two castles in Erice built by the Arabs and the Britons are a must see. Take a trip Lo Zingaro Nature Reserve, one of the most beautiful parts of western Sicily or join a volcano tour and see the insides of Fossa di Vulcano or the Stromboli craters.
Sicily has many wonderful sites and activities. Just keep up the energy to roam around and have a fun trip!