If you are looking to jet off on a romantic getaway this autumn, you may be struggling to decide where to go. With so many options and so many types of holiday – adventure, relaxing, pampering – it can be overwhelming to select the right destination for you. Below, we've put together four popular destinations that couples are flocking to this autumn, and offer some tips on how you can make the most out of your getaway.
Where: Venice, Italy
Why: Boasting of a rich urban landscape with fairytale canals and traditional food, you'd be hard pushed to find a destination with more romance and personality. Spend time on a gondola ride, take in the sights of the Piazza San Marco and enjoy art in the Gallerie dell'Accademia if you want to soak up everything Venice has to offer, and round off your evening on the Rialto Bridge.
Where: Bali, Indonesia
Why: Bali is not only famous for its stunning beaches and its surfing spots, but it's well-known for its romance. Whether you're ready to explore its rich culture, or you're more interested in spending your nights in Seminyak's nightspots, you're bound to find something that you'll both enjoy. If you want to add even more romance to your travels, opt for a luxury travel operator such as Imagine Holidays to find the best possible accommodation and excursions.
Where: Paris, France
Why: Paris has long been known as one of the world's most romantic holiday destinations, and it doesn't disappoint during the autumnal season. With plenty of sightseeing activities – including the Eiffel Tower, The Louvre, the Notre Dame and the Arc de Triomphe, there's no excuse not to immerse yourself in the stunning culture and scenery that Paris has to offer. French cuisine adds to the romance – from bisque to Foie gras and from crème brûlée to éclair, you're almost certain to come back a couple of pounds heavier – especially if you take part in a French cookery class!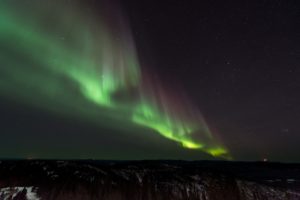 Where: Jukkasjärvi, Sweden
Why: Constructed every year from scratch, the Ice Hotel is as much of an art project as it is a holiday destination. Located in Lapland, Jukkasjärvi is one of the best places to witness the Northern Lights, a true romantic sightseeing experience. Sweden's Ice Hotel is not only close by to the Torne River, which is one of the last untouched rivers in Europe, but it offers a range of traditional Swedish food such as cinnamon rolls and pork slices.
A romantic getaway doesn't have to be cheesy or predictable, and taking inspiration from one of our key destinations will serve you well. However you choose to spend time with your loved one, make sure that you immerse yourself in the local culture, be prepared to try new things and make memories that will last a lifetime.