Cyprus is an island with a long and colourful history and a very diverse culture. Originally discovered and settled by the Greeks in the antiquity, the most ancient historical sites are of Greek origins. However, when the Ottoman Empire invaded the island in 1570, it brought along Turkish culture with it. For years the island was divided into two communities with separate cultural backgrounds. Due to the different cultural influences, warm climate and Mediterranean location of the island, Cyprus has become a very touristy location and flights with Cyprus Airways are easy and affordable to find.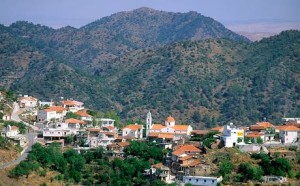 In Cyprus, the Summer lasts basically from April to November and still reaches temperatures of up to 20 to 25 degrees Celsius during the latter months. In mid Summer, temperatures may vary from 32 to 36 degrees Celsius, therefore making it quite hot. Winter is usually pretty warm too, and temperatures may well exceed 20 degrees Celsius.  However, in the mountainous regions at the centre of the island, there's even a chance of snowfall every now and then. With such a warm summer climate and mild autumn, the best time to visit Cyprus is perhaps in the Spring or Fall seasons.
Art history in Cyprus goes as far back as 10,000 years and strongly resembles the art of ancient Greece, whereas modern Cypriot art is mainly influenced by figurative painting. However, conceptual art has recently been intensely promoted by several art institutes, including the Nicosia Municipal Art Centre. Nonetheless, many Cypriot artists are trained in London and Greece, even though Cyprus has excellent high schools and art institutes.
Another facet of Cyprus that is often overlooked is its music scene. Cypriot folk music exhibits influences from Greek, Turkish and Arabian cultures and is reflected both in modern and traditional dances. The lute, the Cypriot flute and several percussion instruments form the main group of instruments found in Cypriot folk music. Pop music in Cyprus is largely influenced by the Greek Laika scene, while Rap, R&B and reggae are also very popular on the island. In addition, rock and metal music are gaining more and more followers in Cyprus as well.
Last but not least, one should not ignore the cuisine Cyprus has to offer, which is anchored in Cypriot culture and tradition. Halloumi cheese, for instance, originated in Cyprus and is commonly served sliced, either fresh or grilled, as an appetizer. Another common ingredient in Cypriot cuisine is seafood, including squid, octopus, and several Mediterranean fish, as well as a variety of fresh vegetables and fruits.