If there is an anthem that every traveler can identify with, it is the bottoms up anthem! No backpacking trip is complete without at least a few days and nights of partying hard until sunrise, trying whatever local booze you can get your grubby hands on!. This is where the cocktails come in. Whether shaken, stirred, on the rocks or neat, a cocktail from some exotic corner of the earth is just what the doctor ordered.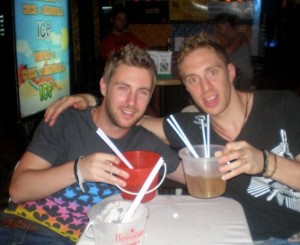 Cocktails vary a lot though, both in quality, flvour and most importantly for my backpacking buddies, in price! Whichever part of the world you go to, there will always be a cocktail drink that dominates. Some of the best cocktails from around the world include.
Martini
This is an American invention that is so popular a toddler will whip it up for you in a jiffy (not recommended!). It comes with so much class that it is James Bond's drink of choice. With simple ingredients like gin, vermouth and a twist of lemon or an olive, it is like the proverbial little black dress when it comes to cocktails. There are very many variations today but a trip to its place of origin in San Francisco will give you the privilege of having it served to you just the way bond likes it; Shaken, not stirred.
Pina colada
What most people don't know is that this cocktail was born in Puerto Rico in the 1950s, for a drink that is ranked in the big leagues, it is not only seductive but also very sweet. In a shaker with crushed ice, mix your coconut cream, pineapple juice and white rum. Garnish with either pineapple or maraschino cherry and voila you're good to go.
Caipirinha
Unless you will go out of your way to get sugar cane rum, and a bottle of cachaca, this official national drink can only be made in Brazil. This drink which is the main cocktail in restaurants, homes and bars in Brazil only made its way out of South America recently. When mixed with different fruits, there are endless variations to this drink. A cold Caipirinha will definitely sort you if you are looking for something refreshing and fresh.
The Pisco Sour
There is still a debate on whether the cocktail originated from Chile or Peru. Regardless of its origin, it is a drink to reckon with. Made from a brandy from South America known as the pisco, it is mixed with egg whites, bitters and lemon juice.
The Singapore sling
First concocted in Singapore between 1910 and 1915, it is a classic cocktail that appears in various forms on menus across the world. Basic ingredients include cherry brandy, gin and Benedictine with dashes of bitters and cointreau. Usually finished with pineapple and lime juice but like all cocktails there are many variations across the world.
Honourable Mention:
Thai Buckets:
For those of us lucky enough to sample Thailand and all it has to offer will surely have come across one of the most potent cocktails around – thai buckets. An easy mix of home made whiskey, a can of coke and some ridiculously strong redbull, to be drunk out of a bucket with a straw, this is guaranteed to blow your socks off. All for around $6 too. With offers like that, it's time to book your flights to Thailand.
Next time you go out try a cocktail from a different place in the world but don't just underestimate anything lest it knocks you of and end up in a trench or cell!