When you set off traveling you are always on the go so be prepared to carry everything that you pack, every day from station, to hostel to station again. This article concerns itself with CLOTHES only, check out our other articles on what to pack to complete the set.
With this in mind, it is important to only pack things that are essential and that you're going to use regularly.  It's easy to get carried away with thoughts of new people, new partners (oi, oi) and wanting to look your best (I got caught making this mistake!) but listen up… you're not going to wear them enough to justify carrying them every day, so leave them at home! Be ruthless in your decisions on your clothes as you'll only end up either throwing them out or continue lugging them around your whole trip, with a grumpy face and sore shoulders. Sydney Opera House won't look so amazing with 25 kilos on your back, trust me.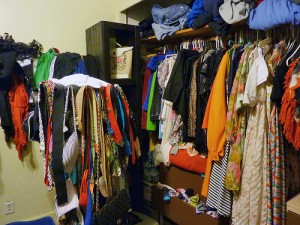 Here are 4 golden tips for packing:
1) Try and pack clothes that will last for a week or so. You can always buy clothes along the way, from the many different places you'll be visiting and if you have enough to last just over a week, you won't completely run out of clothes when you need to do a wash. Alternatively, you could take less, reuse clothes after sweating your face off in them, be smelly and be that guy that no one wants to sit next to on the bus 🙂
2) Most airlines allow about 20kg max in baggage allowance, (that's a limit, not a challenge) so when you set off for your trip of a lifetime, aim for 13kgs max! It'll be much easier to carry and leaves room for things you'll gather along the way (saving you the dilemma of having to throw any items out).
3) What clothes to pack for a life on the road. Deciding on what clothes to take can be a real dilemma, don't fall into the trap of every first-time traveler and think "oh but i might need this", odds are – you probably won't. Leave it in the wardrobe guys. For a rough idea of what to bring, here we go…
8 T-shirts/vests etc
1 shirt (even poor backpackers can end up in a snazzy venue from time to time)
1 pair of flip flops (if you're off for 4 months+ and have space, chuck a spare pair in too. It's horrible when they break and you're forced to wear your trainers around in 40 degree heat!)
1 pair of trainers/hiking boots (that you can use to white water raft, trek, play sport etc)
2 pairs shorts
1 pair of jeans
Swimming gear
1 pair of walking trousers / tracksuit bottoms (something to trek in so the mosquitos don't literally eat you alive)
1 light waterproof jacket
1 beanie or hat
2 or 3 pairs of socks
8 pairs of underwear (and no white ones – speaking from experience of not only me but friends too, however, that's another story though…)
Other stuff, space providing, you could bring would be:
A hoody (for those colder than expected evenings)
a towel
a light-weight sleeping bag
If you are a larger guy (or girl), I would maybe recommend taking a few extra clothes as it can be hard finding clothes to fit across Asia and South America. When in Thailand, I wanted to get some underwear and bought some 'XL' underwear on Khao San road. Needless to say they were not XL and actually quite tight, so ended up speaking with a squeak every time I wore them until they got binned. You've been warned!
4) The Packing Technique to End All Packing Techniques: Be sure to roll up your clothes instead of folding them (picture below). It saves loads of space, which will help you chuck in those extra things or if you're into it – more room for shopping! (girls take note)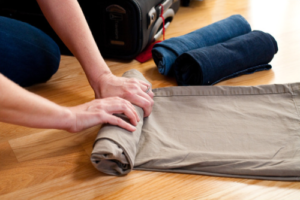 Having experienced much of this first hand (mostly through trial and error, and error and error), this will give you more of an idea for packing clothes to warmer climates before you set off on your awesome travels. Have fun!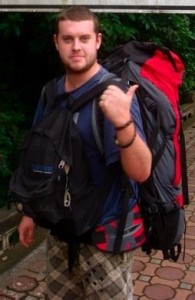 Duff
Disclaimer: If you are going somewhere that is cold please don't pack the above… you'll probably end up cold, wet and sick!