There's something wonderful and wistful about browsing a used bookstore. The huge, anonymous, and garishly lit big-box bookstores offer an impersonal experience that pales next to whiling away an afternoon perusing gently-loved books.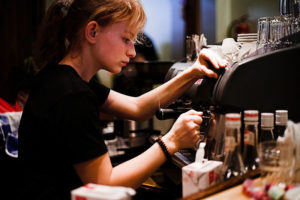 Cambridge is a bibliophile's utopia, with fine independent bookstores and funky coffee shops staffed by obsessive baristas creating cups of caffeine perfection. If your ideal getaway includes bookstores and joe, spend a weekend in Cambridge.
Experience the Culture in Harvard Square
The best place to stay is in Harvard Square, a fascinating and diverse place where Nobel laureates mingle with trust-fund socialites and the homeless down-and-outs. It's a veritable melting pot of ethnic restaurants that tempt the taste buds. The Charles Hotel and The Harvard Square Hotel are perfectly located for books and coffee exploration.
Take Your Pick of Thousands of Volumes
The Harvard Bookstore is a Cambridge institution and the used bookstore in the basement does justice to its big-name reputation. Browse the 25,000 volumes of classic fiction, children's literature, and philosophy, art, and history tomes. Be sure to check out the walls and bookshelf ends where the staff tapes mementos and flotsam found in the books they buy—there's even a ticket from the 1948 Republican convention.
The Raven on JFK Street is a subterranean cave of a shop with concrete walls and exposed pipes, but it's very clean and well-lit. Its focus is on scholarly works; it boasts an extensive list of foreign titles—Camus in French, anyone? You'll find lovely volumes of poetry, books on political theory, and fine religious texts. The staff is exceptionally laid back and knowledgeable—true book connoisseurs.
Enjoy a Local Brew
Image via Flickr by First Daffodils
Once you've chosen a book or ten, you'll want a coffee shop to enjoy them–and a steaming coffee accompaniment. Crema Café on Brattle Street is the first choice of coffee nerds. They brew local beans from the Acton, MA, George Howell Coffee Company, as well as a few carefully chosen "guest" roasters. There's ample indoor and outdoor seating and a light, healthy menu to accompany your coffee. You'll love the delicate foamy latte art.
If you're staying in a Cambridge hotel outside of Harvard Square, you still have plenty of outstanding options for used books and java. Rodney's Bookstore in Central Square is a Cambridge icon, with a huge selection of gently-loved books and lots of comfy chairs for sampling the wares. You'll find guilty-pleasure volumes sprinkled among the literary and academic tomes. Plan to spend an afternoon here.
Taste the Best of Boston
You'll want coffee from 1369 Coffee House, a Best of Boston selection in 2013. Try the cortado, or spice up your life with the Mexican hot chocolate. No matter when you go, be sure to sample one of the two daily fresh-baked cookie selections. If you're looking for lunch, you can't go wrong with the soup du jour.
Used books and coffee are a heady combination, and Cambridge delivers on both counts. If you're a bibliophile in need of a getaway, why not use Hipmunk to book a budget getaway to Cambridge? If you have tips or suggestions for a weekend in Cambridge, post them in the comments below!
AUTHOR BIO
Sheila Westin is a freelance travel writer and food blogger who writes about the charms, cuisine, and culture of the places she visits. When she's not on the road, Sheila enjoys exploring the excellent restaurants and jazz clubs of her native Washington, DC. Sheila is a writer for the #HipmunkCityLove project.