I recently came across a very interesting infographic (you can click on it below) from Top Rooms that really resonated with me as a traveler. I can see that the bed and breakfast is losing out to other larger forms of accommodation and I thought I would write a little bit about why I like staying in bed and breakfasts after seeing this infographic. I hope you enjoy it.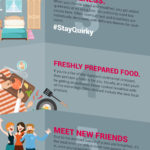 Everything is included
When you stay in a hotel you get charged for absolutely everything and there is always the fear that you might turn something on that might mean you have to pay extra. This is not a particularly nice feeling to have and is something that is great about bed and breakfasts, because you can feel comfortable knowing what you have paid for. You can park your car with ease and not have to worry about paying on the other side!
Meet new people
When you stay in many forms of accommodation you really do not interact with others, but in a bed and breakfast it is quite the opposite. You get to interact firstly with the owners and other guests in a shared and more intimate environment compared to other forms of accommodation. This is a great way to meet people and have a true travel experience. I always like to say that locations make up 40% of the experience and the other 60% is definitely the people that you meet along the way.
Customer service
While I find that customer service from hotels and other forms of accommodation is satisfactory I always feel that it lacks a personal touch. These people working behind the desk see hundreds, if not thousands of people coming and going on a day-to-day basis. I understand why it's like this, but then I understand why bed and breakfasts are better in this regard. You get to interact with the owner and actually talk to them and they also have the time to do so. They are also much more likely to have better knowledge of the local area, which always helps.