If you find yourself on the second largest of the Greek Dodecanese islands, then you are lucky enough to spend time on Karpathos, an island with a rich abundance of culture, traditions, and beautiful beaches! The airport here allows you to get straight to the heart of an island, get yourself a car rental in Karpathos and you're good to go.  For the island's best beaches, stay on the eastern and southern coastlines, which have little wind and are covered with either beautiful pebbles or white sand.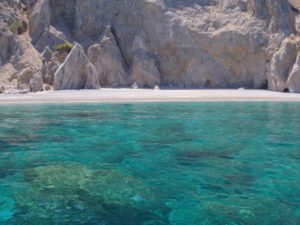 Apella Beach is located in a picturesque cove, about 15 km north of the island's largest port village of Pigadia. Since it can be hard to reach by car, take one of the boats leaving regularly from the harbor at Pigadia. You won't regret the trip out to this exotic beach with white sand and lush greenery adding to the experience!
Kyra Panagia, south down the coast from Apella, is a wonderful sandy beach named after the Virgin Mary, so there are sightseeing opportunities to visit the nearby church if you are so inclined. But you may instead spend all day taking in the clean, azure waters and beautiful landscape from the white sandy beach with provided sunchairs. The water here is very deep, so you should be a strong swimmer to jump in here!
Moving further south, Achata Beach is a quiet and calm beach with white sand and pebbles, easily accessible by car (about 13 km north of Pigadia and 5 km from Aperi.) Here, the sea takes on an amazing emerald color and you can enjoy refreshments from the cantina right on the beach.
Mikri and Megali (or "Little" and "Big") Amopi beaches are located on the southwest coast and offer two different but equally enjoyable atmospheres within walking distance. Mikri Amopi is nice and quiet with clean water and fine sand. You can enjoy the calm water, beach umbrellas and a small assortment of taverns. Just a short walk down the coast, Megali Amopi (also called Votsalakia) is highly popular and equally beautiful, where you'll find a large assortment of tourists and locals enjoying the restaurants, bars/cafés and volleyball nets near the beach.
Arkasa Beach, on the southwest coast, is beautiful and sandy but notable for being the best beach for body surfing. There are always plenty of waves here but you must be a good swimmer to venture into them for safety reasons!