The Netherlands is popular for its windmills, tulips and bicycles. This low-lying country has been famous for so much more than just what people think about it. It has many attractions that allure tourists from all over the world. Nonetheless, it surely lives up to what it can give. Read through the 5 things you must see in Netherlands to get more than just the normal.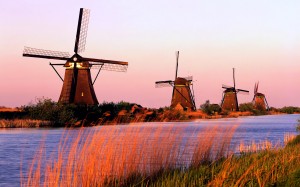 Utrecht
Utrecht can captivate you with its early middle aged structures. If you want a piece of the Netherlands history, hitting this city would just make your lust for old buildings grow as its Netherlands city of Importance until Amsterdam came to be first. It ranked 2nd having the highest number of cultural events after the famous city of Amsterdam. If you're planning to see more sights, best you shouldn't forget to visit the 600-year old Dom Church and Tower. After that, try to walk through the sides in the canal of Utrecht and have a stunning view of local cruises passing by.
Delft
Delft is best known for its pottery ceramic products. Not only in China, these ceramics have been in Delft for over decades as the canal located in this city has been a port for the Dutch East Indie Company. A true history kept to live for centuries. Numerous factories are found in the streets of Delft making pottery. So, it's best to visit one and experience how it is made to appreciate the quality and time given to make it. Don't forget to purchase one but be careful not to break them! While you're in the city, try to visit the Oud kerk and Nieuwe Kerk translated to be Old and New Church. These churches have the tomb of William of Orange. Take loads of photograph and pay respect to a famous Dutch figure.
Keunkenhof
Keukenhof is said to be the most picturesque spring garden in the world. If you're heading to the Netherlands in the spring time, don't miss this place. You can not only smell flowers in the air but also you will see a natural magnificence of Mother Nature.  The season starts from mid-March to mid-May. So, plan ahead if you want to bathe your eyes with floras.
Den Haag
Den Haag is the home of the royal family of Netherlands. This preserved city has many royal art galleries open to the public from the masterpieces of Vermeer and Rembrandt. The city also has a place for the kids and that is the Ma duro dam. It is made to be a miniature city having many structured-models of the Dutch landmarks. This is one way to let your youngsters have fun while learning the amazing landmarks that Netherlands can offer.
Kinderdijk
Kinderdijk houses a UNESCO world heritage site. This site has an arrangement of 19 windmills made around 1740 along the Lek and Noord rivers. Walking through the area is possible or even taking a cruise with a tour guide. This place can not only blow you away but also let you think and realise how amazing truly the Netherlands is. Don't forget to take a snap of photo as this can make your trip memorable and worth it.
The Netherlands has never been so accesible, with trains and buses from all of Europe heading to Amsterdam, or ferries like the one from Harwich to Hook of Holland charging cheap fares, it's so easy to get here. Now pack your clogs and arrive asap!