If you are an adrenaline enthusiast, you are probably looking for the most blood-pumping vacation spots. From bungee jumping to playing the odds in the casino, make sure to add these thrilling travel ideas to your bucket list.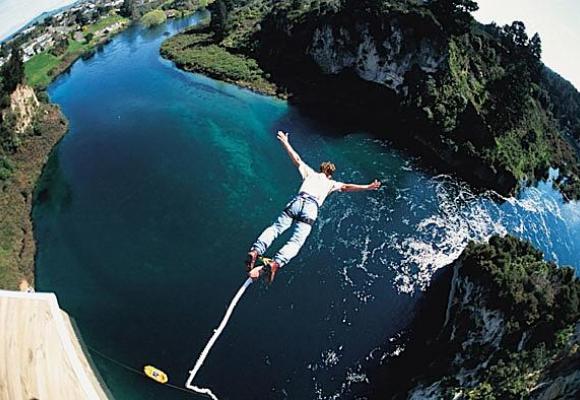 Bungee jumping
Imagine bungee jumping at the Grand Canyon or another beauty spot. Feel the wind stream across your body and get your blood pumping while plummeting towards the ground with only a strong tether to catch you.
A view from up high
Thrill seekers are traveling to Chicago to step out on a ledge and lean over to view the city at extreme heights. There's nothing like the 360 Chicago Observation Deck Tilt attraction. Bring your bravest friends to join you at the edge of the observation deck over 1,000 feet above the ground as it tilts downward for an adrenaline rush giving you views over the city by practically being dangled over it.
Cage diving
For adrenaline junkies who are also diving enthusiasts, check out cage diving. You will be suspended in a metal cage and plummeted into the water to spend heart-pounding moments among the sharks and other sea creatures. There are a number of cage diving hot spots with guides ready to take you on the diving trip of a lifetime.
White-water rafting
If you want to navigate fast-moving water at daredevil pace, you might like white-water rafting. For those seeing the biggest thrill early spring is the time to go, as high water levels and huge waves are created by melting snow allowing the water to move faster.
Try your luck
Gambling is an adrenaline-fueled activity to add to your list as you hope to hit the jackpot by playing games at the casinos. Casino vacations are a thrill every minute you spend strategizing how to hit the jackpot. Winning big is the ultimate thrill seeker's goal.
Take a safari trip
You can get up close and personal with wild, free-roaming animals on a safari. While you can travel all the way to Africa to see the stunning views and diverse wildlife, you can also easily get the full safari experience in the U.S. Bring your camera along for once-in-a-lifetime photo opportunities of animals ranging from bobcats to moose depending on the safari park location.
Mountain Climbing
Making the climb to the top of Mount Everest is often at the top of a climber's thrill-seeking list. If you don't want the hassle of getting your passport to travel to Mount Everest, consider some of the highest peaks closer to home. Alaska is home to what is considered the third tallest mountain in the world and absolutely the tallest in the U.S. at over 20,000 feet. This peak called Denali, is often referred to as Mt. McKinley. If you are up for this challenge, strap on your backpack and pack your warmest clothes for this exciting climb.
There are so many thrill-seeking travel ideas. It's all about what makes your heart pound with excitement. Dare yourself to add all of these amazing adventures and vacations to your list.