Tasmania may be the smallest state in Australia, but it has a great deal to offer curious travelers. Separated from the Australian mainland by the Bass Strait, Tasmania boasts some of the most unique scenery and wildlife in Oceania. In addition to natural wonders, Tasmania has a plethora of impressive historic sites. No matter what you're into, there are plenty of exceptional things to see on Tasmania tours.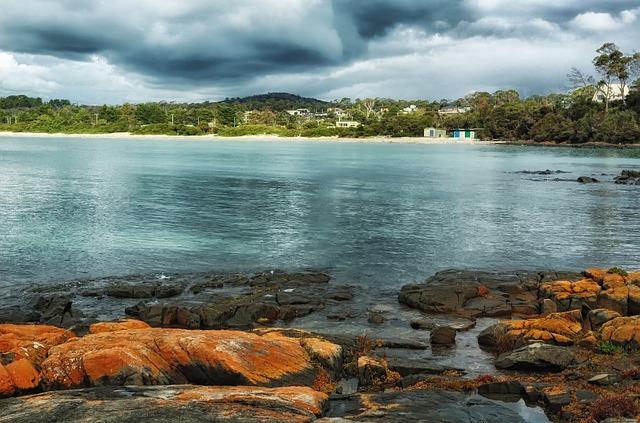 1. Cradle Mountain-Lake St. Clair National Park
Only a two-hour drive north of Hobart, the Cradle Mountain-Lake St. Clair National Park is Tasmania's most popular place for outdoor enthusiasts. Don't worry, however, if you're not an experienced hiker. People of all skill levels can marvel at the magnificent scenery in this 6,705 square foot park.
Obviously, the star attraction in this park is Cradle Mountain, which is the fifth largest peak in all of Tasmania. In case you were wondering what the highest mountain in Tasmania is, it's Mount Ossa…and it's also conveniently located in Cradle Mountain-Lake St. Clair National Park! Some of the other key attractions to take in while you're here include the extremely deep Lake St. Clair and the soaring Mount Pelion West.
Whether you're looking for an exciting multi-day hike or just a relaxing day-trip into the Tasmanian wilderness, you're bound to enjoy a trip to Cradle Mountain-Lake St. Clair National Park.
2. Nelson Falls
The soothing Nelson Falls is a short distance from Queenstown on Tasmania's Western Coast. Just note, you can't actually drive directly to Nelson Falls. You'll have to take a lovely little walk past fantastic fern trees in the region to get to the actual falls.
Visitors are always astonished once they see Nelson Falls for the first time. Believe it or not, these falls cascade down almost 100 feet.
Officially, Nelson Falls is considered to be a part of the Franklin-Gordon Wild Rivers National Park. If you have the time, it's well worth the effort to explore more areas in this UNESCO-recognized wilderness.
3. Port Arthur Historic Site
Tourists who only have time to visit one museum on their trip must plan a stop at the Port Arthur Historic Site in southeastern Tasmania. Without a doubt, this massive World Heritage Site is one of the most significant and well-preserved areas in all of Australia.
Built between the 18th and 19th centuries, Port Arthur served as a penal colony for the British Empire during its heyday. As you explore Port Arthur's insane asylums, coal mines, and juvenile detention centres, you'll learn the darker side of Australia's past. For those who are brave enough, Port Arthur also offers guided ghost & cemetery tours.
4. The Historic Village of Richmond
While we're on the subject of historic sites, Richmond is the best-preserved town you could visit in Tasmania. Located very close to Hobart, Richmond is well-known for its old buildings and structures, many of which were built in the Georgian-style. Some of the oldest structures in the city include the bridge over Coal River (completed in 1823) and the Old Convict Jail (dating back to 1825).
There are many fabulous restaurants, cafés, and little shops to explore throughout this wonderful town. Definitely schedule a few hours to simply admire Richmond's architecture and sample some of the delicious bread at the local bakery.
5. Mount Wellington
The imposing Mount Wellington has become an important part of the Tasmanian capital's identity. Once you reach the top of this impressive mountain near Hobart, you'll be rewarded with some of the greatest views in all of Southern Tasmania. In addition to its famed summit, visitors are sure to enjoy the stark contrasts between Mt. Wellington's woodland and alpine areas.
Although you certainly could hike or mountain bike through Mount Wellington, there's also a road leading to the top of the summit. Just be sure to check online before you travel up Mt. Wellington because this road sometimes closes due to inclement weather.
6. Hobart Shot Tower
Although Mt. Wellington is a great spot for great panoramic views of Hobart, the city's Shot Tower is almost as popular. Officially, the Hobart Shot Tower is located just south of central Hobart in a town known as Taroona. Built in 1870, this tower was initially used to let off steam from the ammunition manufacturing plant.
Interestingly, shot towers were fairly common in the Western world in the late 19th and early 20th centuries. Today, however, it's believed the Shot Tower in Taroona is the last of its kind still in existence.
Unfortunately for factory owners, the ammunition plant once located here couldn't compete with larger factories on the Australian mainland and was forced to close in 1905. Luckily for us, however, the Shot Tower is extremely well taken care of and welcomes visitors of all ages.
Anyone who wants to climb to the top of this almost 195-foot tall structure should be prepared to climb 300 wooden steps!
7. Freycinet National Park
For many people, Freycinet National Park is synonymous with only one attraction: Wineglass Bay. While this awarded beach is certainly Freycinet National Park's top draw, there's far more worthy of exploration in this fabulous East Coast park.
Indeed, just to get to Wineglass Bay you'll have to walk uphill for about one hour. You can't ignore this park's scenery as you make your way to one of Tasmania's most sensational stretches of sand.
Freycinet National Park is particularly known for its striking granite mountains, some of which are pink. A few of the most impressive peaks you'll find in the park are the Hazards of Coles Bay and Mt. Amos.
By the way, those who don't want to walk all the way to Wineglass Bay should stop at a lookout post-half-way to the beach. You'll get some great selfies with the bay in the background at this point.
8. Bonorong Wildlife Sanctuary
If you're looking to get up-close-and-personal with some of Tasmania's famous fauna, then you should add a visit to Hobart's Bonorong Wildlife Sanctuary to your travel itinerary. Created in the 1980s, this organization was intended to care for orphaned animals throughout Tasmania.
Not only will you get to see plenty of Tasmanian devils, kangaroos, koala bears, and wombats, you'll also learn about these iconic animals and the conservation efforts going on in Tasmania. There are both guided and self-guided tours offered in Bonorong Wildlife Sanctuary during the day and night.
9. Maria Island
Another great way to take in Tasmania's wildlife is to hop aboard a ferry on the East Coast to Maria Island. Considered by many locals to be the best spot for bird-watching, Maria Island also has a reputation for its large population of Tasmanian pademelons, kangaroos, and, of course, Tasmanian devils. By the way, keep an eye on the waters around Tasmania for seals and whales.
In addition to its wonderful wildlife, Maria Island has wonderful beaches, hiking trails, and historic landmarks. As with so many other historic structures in Tasmania, most of Maria Island's oldest buildings are related to Australia's days as a convict colony.
We haven't even scratched the surface of things to do in Tasmania. As you could see, there's no shortage of natural and cultural wonders to explore in this dynamic Australian island. No matter where you choose to go, it's pretty hard to get bored on a Tasmanian adventure.