The Grand National 2015 is fast approaching and it is looking like it is going to be ore popular than ever! The British public will turn into racing experts for the week and will be passing on tips to everyone they see. The Grand National is right up there with Wimbledon, The London Marathon and Silverstone when it comes to the biggest sporting events in the UK. For me it is the best of the lot because it is a quick hit of excitement where anyone can get involved and have fun.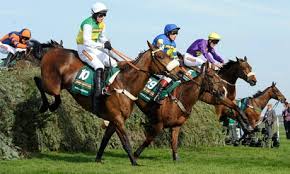 So, we all know that there is a big field of horses, lots of fences and brightly coloured jockey outfits. But what we don't know are all the other weird and wonderful facts about this brilliant race! Here are my favourites:
Watch the clock
The first running on the national did not get off to the best of starts because it actually went off two hours late! The 1839 running was delayed as there seemed to be some uncertainty about the weight of the runners and riders.
Number crunching
The field has not always been the same number at the off. The largest ever field set odd in 1929 when an amazing 66 horses lined up under the starter's orders. The smallest field that has ever run was in 1883 when only ten runners started the race.
Speedy man
The fastest time that the course has been completed was in an amazing eight minutes and 47 seconds, that day Mr Frisk was going at some pace to set the course record!
It's not just a guy thing
Female jockeys ride in the Grand National and do very well indeed! The first female jockey to take part in the race was a lady named Charlotte Brew back in 1977. The highest finish by a female jockey came from the outstanding talent that is Katie Walsh, she finished third onboard Seabass.
There are an endless amount of facts on offer about this most famous of horse races. I hope that the above four have wetted your appetite and encouraged you to go out and find more. I would love to hear about all of your experiences with the Grand National and also any wonderful facts that you may have about the race. I'm looking forward to reading all about the winners, the losers and the tales that you have.