There is a ton of things to do while visiting Lapland. There is an infinite range of activities and things to do. The Sami people are the indigenous people to the region they open up their land to visitors every year and it is one of the best places to visit. Every season there is something to do. If you enjoy spending time in the outdoors then a Lapland break in 2013 is the best pace for you. Here are five of the Best things that you can do in the outdoors in Lapland.
Snowmobiling
This is one of the most exhilarating ways to explore any kind of snow covered landscape. Snowmobile tours can take around some of the deepest wilderness that Lapland has to offer. Going with a guide can be a good idea because the last thing you would want to do is get lost. Especially if you're visiting in the winter when temperatures can drop to around -45 degrees Celsius.
Skiing and Snowboarding
Both of these activities are very popular in the lapland region because of all the snow that it regularly receives. If you like to downhill ski and snowboard then you will have a range of resorts to choose from. One of the largest resorts is called Yllas and it has 61 different slopes that you can choose from. Most of the resorts also have street courses and half pipes. Or if you'd like to go a different route, you can try cross country skiing. Still a great workout just much less dangerous.
Sled Ride or Sleigh Ride
These are both two things that I would love to do. While in Lapland you can take a husky sled ride. Does this not sound the coolest thing ever? You can be the leader of your own sled of 12 huskies or so as they take around Lapland. I know that you could sign me up right now for this and I'd be happy. The other thing that you can do is take a sleigh ride by reindeer. If they're good enough for santa then they are definitely good enough for me.
Ice Fishing
One of the best parts of being outdoors can be the silence and the solitude. Ice fishing can definitely be that for you. There is something quite calming about cutting a hole in some ice, dropping a line, and just waiting for a fish to bite. If you can, go out with some friends, bring some food, and have a drink or two. It may be some of the most fun you'll have.
Watch the Northern Lights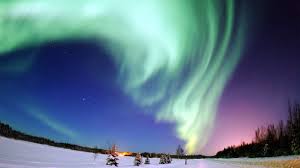 Maybe the number one reason that people visit the arctic circle is to see the northern lights and Lapland can be one of the best areas to go to see them. This is up there as one of the single most incredible things that you could find in the great outdoors. To be able to see the natural greens, blues, purples, and pinks glide through the sky would be nothing short of amazing. This is a feat that can only be seen in this area. Make sure you visit at the right time of year so that visibility is at a high.
–Nick