Turkey has enticed the world with its diverse historical sites, wonderful bazaars and cultural cities that are available for tourists to indulge in. Read on to find out where the best bargains are located, and once you've finished your search for cheap turkey holidays, where the best places are to visit that suits your travel needs: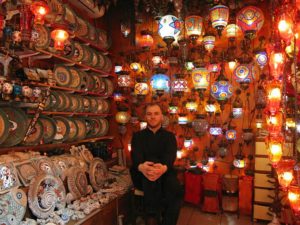 Historical Sites
The Aegean Coast is well known for its diversity of historical sites and impressive ruins which can be seen along its coastline.
• Aphrodisias is the ruin dedicated to the Greek goddess of love, Aphrodite. Its well-preserved remains include the foundation of Aphrodite's temple, the bishop's palace, a theater and an acropolis.
• Behramkale / Assos has the remains of a Doric-styled temple to the Greek goddess of wisdom and war, Athena.
• Ephesus a city that gave visitors insight of the ancient life and ruins that included a brothel, a theater, and a Temple of Hardian which has a sculpted head of the gorgon, Medusa. You can also see one of the ancient seven wonders of the world, Artmession. Catholics also believed that in this area is where the Virgin Mary ended her days.
Turkish warm waters
The coastal water of Turkey boasts its heavenly warmth when you swim in it, but its not only warm waters that Turkey can offer for its tourists. If you want a first hand relaxing experience, you have to go inland and travel to Denzil Province and visit the city of Pamukkale for its mineral baths. When the Romans built the city of Heirapolis on a holy warm spring, they used the natural hot springs as a spa and is known as the Sacred Pool and you can still swim on it and admire the calcium formations (called travertines) that have been admired by visitors for centuries.
Turkish Nightlife
Its always a must to see what the night can offer for tourists. So if you want to dance your night away, you can head to Bodrum (when there don't to forget to visit the Castle of Saint Peter which has been made with stones of another ancient wonder called Mausoleum of Halicarnassus). Bar street is also one of the recommended areas which is a long road filled with clubs, bars and even party boats. The most popular place for tourists is called the Daja Vu Dance Bar. You can also party on a disco boat which is moored at the docks and is called the Marine Club Catamaran.
The Grand Bazaar in Istanbul
The Grand Bazaar in Istanbul is the best place to get souvenirs for loved ones and friends. It has over 4000 shops that sells almost everything from hookah pipes to oriental rugs. Vendors can haggle so be prepared for a good negotiation. It's always good to go around and see what other vendors offer and how much the prices differ, so if you see something you really want, aim to ultimately pay, at the most, half of the original price to make things fair for you both. Haggling can be hard but you have to work hard for something you want.
Peculiar Formations
Fascinating lunar-like landscape of an area called Cappadocia can be found along the eastern side of Turkey. Here you can see amazing rock spires rise and stand together almost like petrified trees. These formations are made from lava layers deposited centuries that formed tunnels and caves.
You can visit the underground towns which are open to visitors. People have created homes with these unique structures and the most popular area to visit is the Goreme Valley that can offer fantastic lava formations.