You probably might have the feel for a swim or a dip in the clear blue ocean waters and if so Menorca is undoubtedly your paradise. Lined with over 200 beaches  it is almost impossible to rank which beaches are best as the all have the characteristics of white sands, picnic area and calm turquoise waters etc, so for a beach to stand out it's got to have unmatchable oomph. With such a big number of beaches you may be the best judge after visiting but here are some pointers for some beaches considered the best beaches in Menorca.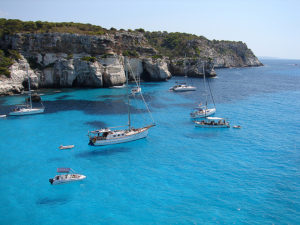 Arenal d'en Castell
This beach is a semi-circle bay of calm blue waters and fine sand. There are a couple of hotels offering different drinks and services. If you're after an active beach, this is the place for you because it is somehow perfect for families who want to just drown in the sun, sea and sand so its quite highly social.
Cala Santa Galdana
A good picture of nature at its best is how I can describe this beach. It is a big resort with all the beach facilities that you love if you are a Beach fanatic and there are lots of watersports and fun for the whole family. Holidays sometimes mean just lazing around and this beach has excellent conditions with a morning shade on its eastern side.
Cala Blanca
This a small beach located in the western side of the island but its beauty is nothing near small. The smell of the aromatic trees is enough to awaken your taste buds while on this white sand beach and the beach bars and restaurants will cater for your wining and dining needs.
Cala Macerella
The tough journey (courtesy of rough roads) to the  beach will be justified in the end when you get to the beach .located in the south west coast of Menorca, the beach is just stunning with turquoise water and fine white sand. Popular with those looking for an all body tan are definitely welcome. There is a restaurant offering good food as well as showers and toilets.
Cales caves
A pebble beach that will get your heart racing if you are into snorkeling and diving but due to its steep rocky cliffs it is more befitting attraction. Come armed with your bottle of water and something to munch because there are no facilities here.
Now you have it, though it's just a tip of the iceberg of what the best beaches in Menorca are so if you are thinking of hitting the waters this is are the places to be.