The world would have been a very boring if there was no music. Music practically lights up the nights and as you cut loose with your friends, you're never more grateful for a banging baseline. As you backpack around the world, it is only fitting that you attend some of the music festivals taking place and incase you didn't know which are the crème del crème, here are the 5 best musical festivals in the world: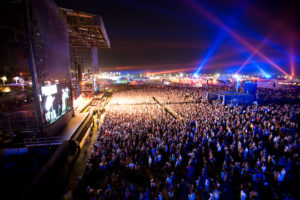 COACHELLA VALLEY, MUSIC AND ARTS FESTIVALS, USA
Three days of music and arts in the desert city of Indio, California, Coachella showcases many of the legendary acts such as Madonna, Jay z, the Black eyed peas, Avicii and many others. The audience also gets to enjoy music from emerging acts and reunion performances. The event has several stages located strategically throughout the grounds, all playing music simultaneously. Music lovers have travelled far and wide to attend the festival and the tickets usually sell out in a day. So, buy your ticket early, attend the concert and scream your shirt off (ladies please!)
V FESTIVAL, ENGLAND
Held in August at two parks simultaneously, England almost literally comes to a stand still at this time. Rock music is mainly the genre at the festival though in recent years, pop has been taking center stage. As usual, the tickets sell out early so, for that carefully planned trip to England this year, now is the time to start making inquiries. This year epic performances will be from LMFAO, Friendly Fires, and Gossip among others.
FUJI ROCK FESTIVAL, JAPAN
It is Japan's largest outdoor event attracting more than 100,000 spectators who come to enjoy exciting performances from more than 200 local and international musicians. Smash Japan organizes this three day event of different types of rock music at the foot of Mt .Fuji. There are usually seven main stages scattered around the mountain, 30 food stalls from around the world and hundreds of die hard rock music fans.
FESTIVAL INTERNACIONAL DE BAICASSIM, SPAIN
One of Spain's biggest music events, the Festival Internacional De Baicassm takes place over a period of four days and has been repeatedly voted as Europe's best music festival. To attend the whole event, one can purchase a four-day pass that includes camping costs- all for around 150 Euros. It may seem expensive but for music lovers, this is a must attend festival if you happen to be in Europe at the right time, mark those calendars folks!
SONAR, SAO PAOLO, BRAZIL
The famous Carnival of Brazil is not the only fun thing that takes place in the country. For those who have been to this tropical destination, boredom is not a word in any Brazilians' vocabulary. The Sonar Festival is yet another example of an exciting event that showcases a trendy set of musical performances and indie films. Next time you are down south, make a point of attending Sonar.
Music festivalas are banging all around the world so next time you try to sort out your backpacking trips find cheap trip online, visit www.cheapholidays.com for example, and tie it in with a music event. Awesome!
johnny