Cape town has a lot to offer to its visitors and it never disappoints from things to see to things to do. It's South Africa's  "Mother city", and it's really backpacker freiendly. It's so hard to chose a top 5, since there are so many things Cape town can offer. So for first time visitors, here is what we have to recommend: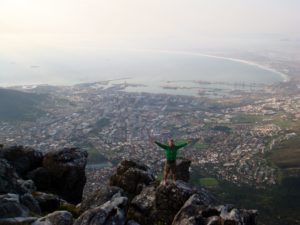 Visit the Two Oceans Aquarium in V&A Waterfront.
It offers a glimpse of the diverse life found off the South African coastline. This is Africa's largest aquarium and is home to ragged-tooth sharks, turtles, large rays and about 300 species of fish can be found on this aqaurium. It also includes submarine kelp forests similar to those along the west coast of South Africa, intertidal zones and wave pools with native African plants and bird life. In the predator tank, sharks, eels and other unusual creatures can be seen in the 'Fangs display'. Visiting the two Aquariums will surely make you experience the underwater world for real.
See South Africa's apartheid past and visit the notorious prison in Robben Island (now a UNESCO world heritage site). It is a must to take a tour of the island for anyone who is visiting Cape Town. It is also where former president Nelson Mandela was incarcerated for 18 years and you can peer into Mandela's old prison cell and here firsthand experiences with former prisoners who now serve as tour guides in the prison.
Table Mountain
Rising 1086m above sea level and dwarfing the city's tallest skyscrapers, Table Mountain can take your breath away with its flat-topped stone behemoth, it's just impossible to miss. For the best view, you can hike to reach the top or ride the rotating cable car as it whisks you up to the summit. Upon arriving, you'll be rewarded with exquisite wrap-around panoramas of the whole city. Spectacular.
Cape Point aka the Cape Good Hope:
The southernmost tip of Afric, so not technically in Cape Town, but we'll let it slide! It is a narrow stretch of land 45 minutes South of town, where you can see the collision of two great oceans, the Atlantic and Indian ocean. You can hike 15 minutes uphill or ride five-minutes on the funicular to get to the top.
Greenmarket Square:
Cape town's most popular flea market with artisans across the African continent converge to hawk everything from hand made replica radios constructed from wire to hand painted fabrics and wood carvings. This cobblestoned square in the center of town has served as a slave market to being a vegetable market and even a car park. The Greenmarket Square is a must to visit to experience and see what Africa can offer.
What are you guys waiting for?! Find some flights to Cape Town and do some backpacking in South Africa's coolest city!
johnny