The US's most iconic city, NYC has been attracting backpackers for decades but as the dollar got stronger and stronger the budget had to get bigger and for broke backpackers, that doesn't make pleasant reading.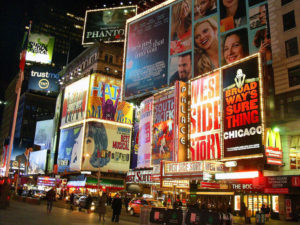 If you're smart about your travels though, bar tend in the hostel in exchange for a free bed, use the subway and hit up all the free atractions you can still stick to the $30 per day holy grail.
In a bid to help our loyal readers, aspiring backpacker is here to save there day: here are 5 awesome free things to do in NYC:
1)   Free beer tasting:
WTF?! I know, it sounds far fetched but it's not! Head over to 191 Fifth avenue to Bierkrfat at 7pm every Tuesday for free beers and nibbles. The brewers are on hand to explain whats going on, but the bottom line is that there are normally at least 5 brewers kicking around, that means 5 free beers!
2)   Ride the Staten Island Ferry:
It doesn't get much cooler than this, the New York skyline, the Statue of Liberty and all from the roof of a boat. The Staten Island Ferry runs 24 hours a day so you can get some crazy nighttime views too, or even a hot (cheap) date idea? Yes sir!
3)   TV showtime:
Wanna have your 0.0005 seconds of fame?! Then head to a tv show taping. The Colbert report, the Early Show and the Daily Show are hot favourites with tickets available the day before! And you can get them online, what more can you ask for?!
4) Arts and Crafts:
            Bring out that inner kid with an arts and crafts session at Brooklyn Bridge park Peir 1. There are experts on hand to help you work on your creations or show you some new nifty tricks, it helps if you bring your own stuff but it's not entirely necessary
4)   Time Square:
The most commercial square in the world? Most probably, but definitely the most photographed! Wander around Time Square for a couple of hours, window shopping, taking snaps of the huge bill boards and don't even dip your hand in your pocket.
There we have it folks, not a penny spent aside from a few subway trips and you've got an action packed few days, now all you need are some cheap hotels in New York and you're set! Who said backpackers can't do NYC? Happy travels!
JOhnny