While backpacking, one of my favorite things to try and check out are sites in nature. Whether it be mountains, oceans, or lakes, I always like to escape the hustle of a city and go off road. If you're the same, then here are some lakes you might like to check out!
Dead Sea, Israel and Jordan
What makes the Dead Sea really cool is that it is the lowest point on earth. It sits at 1,388 ft (423 meters) below sea level. Oh, and also the amount of salt makes it really easy to float in the water. This sea is over 8 times saltier than the ocean. The salinity levels are so high that sea life cannot survive in the water, hence the appealing name Dead Sea.
Lake George, New York
It is nicknamed the Queen of American Lakes and sits at the base of the Adirondack mountains. It is a huge lake that is around 32.2 miles (51.8 km). Lake George is a good escape from New York City. Although it is quite far, about 4 hours, it is definitely worth the trip. Its a great place for camping, hiking, fishing, and several other outdoor activities. If you would a cool experience and some privacy, there are small islands out on the lake that you can rent to camp on. Didn't you always want your own island as a kid?
Green Lake, Austria
This may be the coolest and most exclusive lake on this list. I say exclusive because it is only a lake for half of the year. During the winter the lake is bare of water and used as a park. There are paths and benches for hikers to use when there is no water in the lake and when water is in the lake, swimmers can use the benches! But during the warmer months of spring and summer, the snow melts off of the Hochschwab mountains and fills the park with water, making it a lake. You only have till the end of July to use the lake before it once again becomes a park.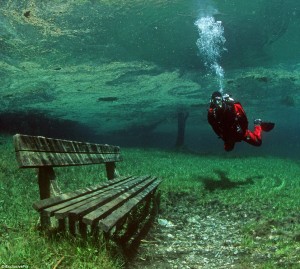 Plitvice Lakes, Croatia
This isn't so much of a lake as it is lakes. About 16 to be exact. They are all connected to one another by a series of waterfalls. The lush green of the trees surrounding it, coupled with the shades of blue, gray, and green in the water makes for a picturesque moment for any traveler.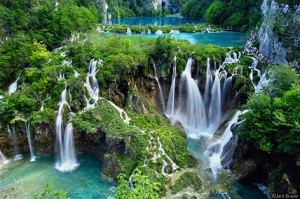 Lake Titicaca, Bolivia and Peru
Opposed to the Dead Sea, which is the lowest point on earth, this lake is the highest navigable lake in the world. It borders both Bolivia and Peru and is 12,500 ft (3,812 meters) above sea level. A super cool draw to check out this lake is that there are floating villages in it. That's right villages, there are land masses in the water that not only float but are able to sustain heavy loads. These villages have been around for centuries supporting the Uros tribe.
Bonus Lake: Lake Karachay, Russia
Everyone loves a bonus! But this lake might not be the bonus you were hoping for. This is a tiny lake out in the Ural Mountains near Ozyorsk. I wouldn't swim in this lake and I would actually be careful as to how close to walk near it. I say this because it has been declared the most polluted spot on Earth. This is a result of years of being a radioactive waste dumping ground for the Soviet Union. So like I said, try not to fall in!
–Nick