Backpacking isn't exactly renowned for its for its luxury ski chalets, hired helicopters and designer ski gear, but that's not to say you can't ski on a budget.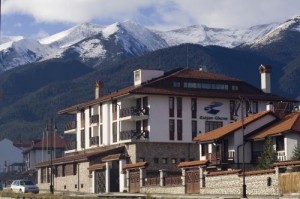 With so many slopes opening the competition is doing us travelers a big old favour, so now's the time to pounce. No longer do have to be envious of the hooray henrys and the upper classes, so my traveling friends, strap on those backpacks, make use of these cheap ski slopes and flock to the slopes, piss off the regulars and grab yourselves a bargain at 5 very cheap ski resorts:
1)   Soldeu, Andorra:
Gotta be quick with this one  you frugal fiends, cos it's starting to be well and truly on the map, although I'm hoping it doesn't quite know it yet cos the prices are still awesome. For those of you not in the traveling know, Andorra is a tiny country wedged between France and Spain (now you can pretend you knew that already).
2)   Bankso, Bulgaria:
Like I mentioned on Wednesday's post, I was very recently in Bulgaria and not only are the women beautiful, but the mountains are too – hence the great skiing opportunites. The slopes are too easy for the experts, which means prices are low and it's an awesome place to learn the ropes, just don't tell everyone about it.
3)   Lake Tahoe, USA:
This literally has slopes for everyone, including us broke-ass backpackers. The area is great to explore which means once you crack your head off a rock one too many times, there's still stuff to keep you occupied. With so many slopes, it's easy to find a deal ski pass here though.
4)   Cervinia, Italy:
This is a pretty good backpacking secret here folks, so listen up. It's basically a back door entrance to the Matterhorne Ski Paradise. It's just over the mountain from Zermatt. It's always great to find a cheap base to explore from, and Cervinia is just that. Awesome.
5)   Brides-Les-Baines, France:
I was genuinely considering leaving France out of my cheap ski resorts list but then I remember this little beauty. Brides-les-Baines is a valley town just 25 minute gondola ride from Meribel. It's another one of my 'cheap base' stunts, and it's great. You still get direct access to the Three Valleys but you won't have to rinse your backpacking budget for it. Excellent work, I know.