Ok, so you're vacationing in Paris, you're feeling cultured. You just checkout out Ms Mona Lisa and she underwhelmed you a bit, but the Eiffel Tower made up for it. Now go and buy a second hand book, start smoking (it's cool in France apparently), hit up some of the best cafes in Paris and convince yourself that you're a true Parisian.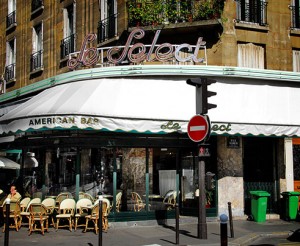 Luckily for you cool customers that Aspiring Backpacker is here to point you in the direction to the top 5 cafes in Paris! Check them out:
1) La Mer à Boire
This is number one for a reason folks. La Mer a Boire sits on one of the highest points in the whole city, so you can see the city stretching out for miles, including the Eiffel Tower. It gets pretty crowded though so go early and grab a seat, free wi-fi for the iphone junkies too (that's me)!
2) Les Deux Maggots
A great name for an even greater venue. This place may not be cheap, but nowhere in Paris is, but it's got personality in bundles. Come a century earlier and you'd be drinking espressos with my fellow Irishman James Joyce, or even Picasso himself. Nowadays you'll have to make do make do with backpackers from around the world, a healthy substitute in my opinion.
3) Cafes Verlet
If age alone gives you credit, then you're in the right place. This jaunt opened in the late 19th century and still holds its own against the ever growing American franchises (booooo, hisssss). More than 20 types of coffes and promos running for less than $3, in Paris that's bargain basement prices, step right up!
4) Le Select
I'm not pulling up any trees with this famous hangout, but it's awesome nonetheless. Henry Miller, Hemingway, Johnny Ward the best travel blogger in the world – they've all sipped coffees here, now it's your turn to follow in their immense footsteps. Smoking is banned, but believe it or not, when you're here you wish it wasn't. It deserves a smoky atmosphere!
5) Le Procope
Everyone (read: me) loves a superlative, so here's one for good measure. The OLDEST café in Paris was founded in 1686, over 400 years ago, playing host to Benjamin Franklin amongst others. Quality artwork lines the walls, the food is tiptop, this place really needs to be on your list.