A great swimsuit is a travel essential and can make or break your trip. You want something that is lightweight, comfortable, and will look stylish all at the same time. But sometimes that can be harder to find than you might think. You either seem to find something super comfortable but not stylish or super flattering but the complete opposite of comfortable. Your swimsuit should also be durable and well-constructed, so you won't have to worry about it falling apart on you while on vacation. And one of our favorite parts about going somewhere warm and sunny while traveling is coming home with an amazing tan, but between sticky and streaky tanning lotions that take up room in your luggage and awkward tan lines even that can be more difficult than you can imagine as well! That's why we were amazed when we found the company CoolTanⓇ and their unique line of TanThrough swimwear that are the perfect travel-friendly swimwear that also let you get an incredible tan at the same time, no more tan lines required!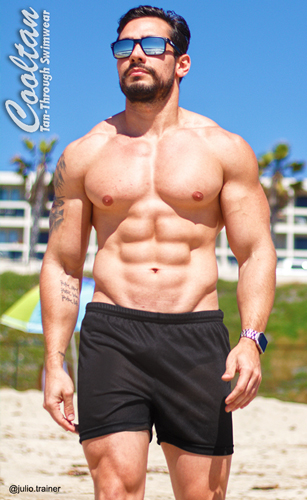 What makes TanThrough swimwear so innovative is their specially formulated Microsol V fabric which is knitted to create millions of tiny pores that let approximately half the sun's rays through the suit. This helps you to get a tan about as fast as you would with a medium level SPF, without having to worry about bothersome sprays and lotions. Because you can tan right through the fabric you will get an even, natural, all-over tan without having to come home with tan lines as a souvenir!
The porous fabric in CoolTan's swimsuits also let air and water pass freely through the suit, keeping you cool and comfortable on even the hottest of days and wicking moisture to dry up to 3x faster than normal fabric. This is a game-changing feature because you won't have to wait hours and hours for your swimsuit to dry before throwing it back in your bag and risk getting all your other clothes and belongings wet and moldy. The swimsuits are even machine washable so you can get out all that salt and sand you might have inadvertently taken home with you from vacation, just hang to dry and you're good to go in no time!
CoolTan has a variety of swimsuit styles and sizes along with a number of patterns to choose from so you can be sure to find your new favorite suit! From monokinis and one-pieces to halter and string bikinis for women and everything from briefs to boardshorts for men, you will definitely find a style and pattern for you. Each suit comes with a Customer Satisfaction Guarantee so if you grab the wrong size or color, rest assured that the CoolTan team will take care of you! Give CoolTan's TanThrough suits a try and discover you knew favorite travel-friendly swimwear that is changing the way you tan and travel!