Vanuatu is an island located in the South Pacific Ocean, it is a popular tourist destination and thousands of people head there year after year to enjoy everything that the place has to offer. There is so much natural beauty for you to soak up on the island; stunning beaches, volcanoes,  and remote places for you to take a dip in the ocean. There are many reasons for you to go and lots of things to experience all year round, there are also some great annual events each year. The fantastic events will make your holiday here even more amazing, so take a look at the calendar before you head off to see if you are able to catch one of the events. Vanuatu holidays are becoming increasingly affordable so make sure that you keep your eyes peeled for the latest deals, when see one be sure to snap it up as soon as possible. Here are some great things for you to see and do when you visit Vanuatu.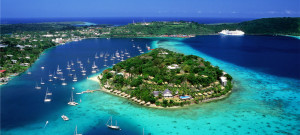 Visit Mount Yasur
You are able to visit the magnificent feat of nature throughout the year. Mount Yasur has the claim that it is the most accessible active volcano that you will find on the planet! If you would like to witness first hand this stunning natural winder then you should head to Tanna Island. It has become one of the most popular destinations on the island because the volcano has been erupting regularly for the last eight hundred years. If you are fortunate enough you may be able to witness the light show that takes place at night. It is advisable to talk to your hotel about the safety and best time to visit the volcano.
Witness fantastic diving
There is something quite remarkable about watching people diving from great heights in to the ocean, I could sit for hours watching these dare devils expertly dive in to the clear waters below. It has to be said that you should not try this yourself, the people doing it have been practising for years. There is definitely a chance of serious injury if people misjudge their dive, so stick to being a spectator instead of having a go. The best place to see the divers is Pentecost Island, here you will be able to watch people diving in form over thirty meters. They dive from the rocks in to the water below. Some of the people you see will just be kids, they can be as young as seven years ild. Another thing that you will be able to see will be the locals constructing a vine tower that they then use as a diving platform, these vine towers take weeks to build and can sometimes be as high as twenty meters.