I remember when hitting a new top score on snake with my Nokia 3410 would be the pinnacle of phone usage for the year, but those days are long gone. Thanks to Stevie Jobs et al, the smartphone is here to stay. So if you can't beat 'em, join 'em – here are the top 5 apps for your smart phone that you should never travel without: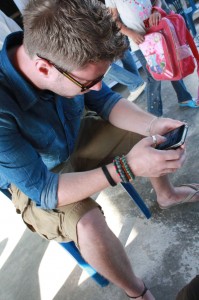 Wikitravel offline:
Wikitravel is Wikipedia for backpackers which is plenty good enough already, but an offline version?! Perfection in a tidy little package. It doesn't come dirt cheap, but at $8 it's money well spent so skip that next Subway footlong meatball, buy this gem and you'll be so well prepared for over 20,000 destinations that people will think you swallowed 20 lonely planets.
XE currency app:
I can't get enough of this little beauty. It's free, calculates prices and converts over 30,000 currencies. If you go offline, the program will simply use the most recent rate update to perform calculations.
Also, it allows you to compare multiple currencies at the same time. If you don't have this on your phone when you're on the road then you sir are an idiot.
Skype:
It should go without saying but everyone's favourite free calling service rocks our iphone worlds. If your old folks don't know their skype from their facebook, then kook it up to your paypal, credit your account and you can call your home phone for next to nothing. A few of those far flung calls from exotic destinations should guarantee a nice little Christmas pressy at the very least.
Google Translate:
Who needs a second language when or (grammatically incorrect) friend is here to help. Speak (or type) the phrase and the translation will appear on the screen
Share-a-bill:
Same buddy always skipping on the bill? Or odering steak when you're watching the budget? Money-conscious backpackers don't have the luxury of splitting bills equally folks, so pay for what eat and drink and don't complain! Share-a-bill will sort it out once and for all. $4 on this might save you a fortune!