Vegas baby, you gotta love it and if you can escape before they draw you in for too long, it's a hell of a time. I was there with 2 buddies and we loved it, 'free' booze when you're playing, gorgeous women, bright lights and banging nightclubs – if you've never been to Vegas, you're missing out.
Not only that, but you can actually make a bit of money if you stick to what you're good at. I'm a big poker fan, so if you play on the lowest table (normally around a $30 buy in), watch everyone else get drunk while you clear up, you can often leave with money in your pocket, which as a backpacker is bloody brilliant!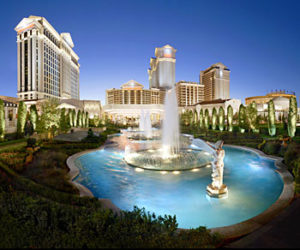 Anyways, here are the top 5 casinos in Las Vegas, be sure to check them out when you're there:
1) The Bellagio:
Dress up nice (no flipflops by traveling friends) and enjoy the swankiness of Vegas' own pimp daddy casino. The Bellagio ooze class (by class I mean over the top opulence and new money of course). The still have low minimums here though so knock yourself out!
2) The MGM Grand:
One of the most famous hotels in the world, and the largest casino in all of Vegas, this place is simply massive! It literally has thousands of slot machines, this is the old centre of Vegas, you need to come here at least once, even if it's just for a couple of pics.
3) The Luxor:
In true Vegas style, if Mohammed can't go to the mountain, bring the mountain to Mohammed. Well this is Vegas' mountain, they brough Egypt all the way here, and they shine the world's brightest light from the pyramid each evening, Vegas just doesn't do half measures.  This is an absolute must-see.
4) Flamingo Las Vegas:
Famously offering the best neon in the city (is that a compliment? I guess in Vegas it is!). It's also a lot more affordable than the other big 5 so you might be able to find a cheap rate online. The location is perfect on the strip too, so it's a great place to start your evening of debauchery.
5) Caeser's Palace:
Time travel back to the Roman era – fountains, columns, decadence – pretty cool. Also they have 5 cent slots which is great for anyone on a backpacker budget!
There are loads of games across Vegas that won't break the bank so don't be scared to visit on a budget, I did it successfully for 3 days. Whether you're playing poker, slots, party bingo or blackjack, just stick to your limit and don't go crazy! That way, you'll make it out alive. Happy travels!
Johnny