Ibiza, Spain provides visitors with a wide range of different and beautiful beaches that each offer their own unique features and amenities. From secluded coves where you can sit back, relax and enjoy the warm weather of Spain, to iconic Ibiza beaches and the perfect places to watch the sunset during the night, this popular tourist destination has it all. With each beach offering its own charm, it can be very difficult deciding which one or ones to visit during your next trip here. Take advantage of flights to Ibiza today to get away from the stress of everyday life and to enjoy a relaxing, tropical environment in this Spanish city.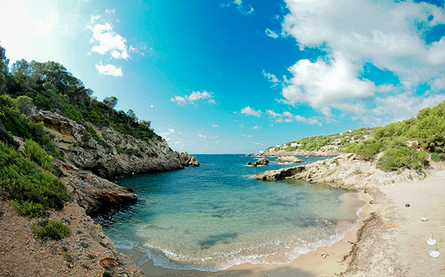 Cala Olivera
Start looking for low cost airlines to Ibiza and enjoy a stay at Cala Olivera, one of the most beautiful beaches in the country. Cala Olivera, set away from it all, can be a bit difficult to find, but is worth the trip and the trouble. This small rocky beach does not offer much sand, but is a truly beautiful sight to see. Enjoy the day at the beach bar where you can take in amazing views on the crystal clear water. Snorkeling and diving are also very popular at this beach, as there are many different cliffs and rocks ideal for jumping and tropical fish to see under the water.
Cala Llonga
Cala Llonga can be found between two large mountain ranges, providing visitors with outstanding views in nearly every direction. This wide, sandy beach is the perfect place to take the family for the day. Relax on a beachbed underneath an umbrella and soak up the warm Ibiza sun. Fully equipped playgrounds, picnic tables, restrooms, showers, two beach bars and more can be found at the Cala Llonga beach.
Cala San Vicente
When searching for a truly beautiful place within Ibiza to visit, there is no better choice than Cala San Vicente. This beautiful beach is made up of golden sand and crystal blue waters with a real tropical feel. A palm tree-lined promenade only enhances the experience, offering many different resorts, eateries, shops and attractions for visitors from around the world. Swimming, water sports and horseback riding are just a few popular activities that can be enjoyed while visiting Cala San Vicente in Ibiza, Spain.
Aguas Blancas
Aguas Blancas is one of the only naturist beaches in Ibiza. Golden sands surrounded by rocky cliffs make up the landscaping of this beautiful beach location. This unspoiled coastal location offers turquoise waters for swimming and snorkeling. Explore caves and rocks, relax along the beach or hit the down for fun-filled amenities, shops and attractions.
Cala Des Moltons
Cala Des Moltons is truly a hidden gem within Ibiza. This small and private cove can only be accessed by walking down a little path that can be found at the San Miguel beach. Head to Cala Des Moltons is you're looking for a peaceful beach location where you can relax without interruptions.  The beach shack nearby serves delicious snacks, while additional shops and eateries can be found just a few minutes away at San Miguel beach.
No matter where you choose to go when visiting Ibiza, Spain, you are sure to not be disappointed. These top 5 beaches are just a few of the many that Ibiza has to offer in addition to many other attractions and activities that the entire family can enjoy.