I feel a bit sorry for hostels as they're often given a bad rap by Peter public. Hostels are often associated with atrocious cleanliness, disgusting rooms, getting your things nabbed, seediness and bed bugs – but these are often massively over exaggerated.
With this in mind, we want to give you a quick rundown of the pros and cons of staying a hostel – home to backpackers all around the world. If the word 'hostel' is not yet in your traveling vocab – it will be soon but fear not, as we have more information on hostels here .
PROs
Socialize – Staying in a hostel, you're much more likely to meet new people – good idea if you're on your lonesome
Cheaper – much cheaper than staying in the hotel, and if you go there without booking you can always barter for a better price (than booking online).
Location – Hostels are normally located in a backpacker area where there is often much to do and see within walking distance. Also, if you're not happy with the hostel you initially pick, you can always up root and move to another one as they'll likely be multiple hostels on the same street.
Party – you probably don't want to spend all your time partying (hey, you can do that at home), but sometimes you need to get out there and let loose. Staying in a hostel, they normally will have a bar, and if not there will certainly be one within walking distance or at another hostel nearby where you can sit, drink, party, and meet other people who are on the road.
Food – Eating out every single day and night can be expensive, so most hostels will have a kitchen with stoves or what not, so you can always buy food and try and recreate some of the delecacies yourself which can help you save money and extend your travels that bit longer.
Room variation – If you want to keep it cheap you can stay in a dorm room, where you will share a room with many like minded travellers or if you a bit more privacy you can get yourself a private room (much like a hotel) and in some cases your own bathroom too. Obviously dorm rooms are cheaper.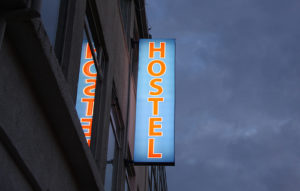 CONS
Sleep deprivation / Noise – If you're in a dorm room, or even in a private, you may hear people at all hours of night. If you have trouble sleeping this could be a bit of a problem for you.
Consideration – Not everyone is as awesome as us, and from experience can be really inconsiderate. This can include, turning the lights on in the dorm in the wee hours and being noisy when coming in. Even leaving dirty dishes around the places and not cleaning up. I like to think we'd all be a bit considerate and I'm sure these individuals would be the first to pipe up if any of that shizzle happens to them – ass clowns.
Booze faces – kind of fits in with the point above, you get your booze hounds who think travel is just about boozing 24/7. These people can be really annoying and sometimes frequent the hostels. However, they can also be a source of entertainment at times too and if you want a night out on the tiles you can always head out with them 😉
Cleanliness – Ok, hostels can sometimes be dirty, have bed bugs etc. If you're booking on the fly, have a look round first and if it doesn't meet your standard you can always go somewhere else.
Shared Bathroom – This is more for the girls that might have a problem with this (hello, Mrs Duff) – sharing a bathroom with other people, but I just think if you stay in a hotel millions of people will have used the facilities before so is there much difference?!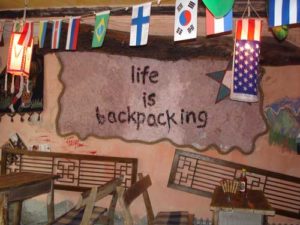 Some hostels you can even do a bit of work on the side to pay for your rent which, if you plan on staying for a length of time can come in handy for doing some extra tips – we'll talk more about working in a hostel in a later post.
For those that really are worried about hygiene, you can always choose to stay in an upmarket hostel, and often they're better than some of the hotels that are much more expensive.
Most countries and cities you will visit will have a 'backpacker area' where there are many different hostels that can meet your need, with prices ranging for the complete budget backpacker, to the flashpacker.
Staying in a hostel, I think the pros definitely outweigh the cons but if you're on a RTW trip and have mountains of money to splurge, you may find yourself wanting to stay in a hotel. We think of the hostel as just a base to stay at while you explore wherever you're staying – so to get something cheaper is definitely a plus, besides you don't want to be sitting in your guesthouse for the duration of your stay eh?
Hostels can cater for the individual, groups and couples too so there is no reason not to unless you want that luxury of a hotel…something we don't advise if you're going to be backpacking long term.
Enjoy your future accommodations people.
Duff