If you are traveling for the first time, you may not have ever experienced a hostel and may find yourself asking what is a hostel?
A hostel is a cheaper alternative to a hotel with a much more relaxed atmosphere. Being on the road, you'll find many budget-minded backpackers staying in hostels  – giving you the opportunity to meet interesting and like-minded travellers and make friends.
You'll want to read on so you know exactly what to expect when staying in a hostel as it will be your new home on the road:

What is a hostel?
Official jargon says that 'A hostel is an establishment that provides cheap food and lodging for a specific group of people, such as students, workers, or travellers'. (Source: Google)
How much does a hostel cost?
This obviously depends on where you stay. For example, in Cambodia we stayed for a few dollars a night but in Australia it was twenty. You can get an idea of how much a hostel will cost by looking at sites such as www.hostelword.com and www.hostelbookers.com. You can also make bookings on these sites if you see one you really like. If you're already out on the open road, you can use the rates as a rough guide (then you will know if you're getting ripped off or not) and you can always haggle a price once you're there to get the best deal.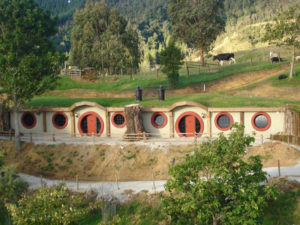 What does it look like?
Hostels come in all shapes and sizes – I actually enjoy going to different hostels and seeing what they have to offer. They can range from old houses (everywhere), capsules (Japan), to hostels themed like a courthouse (London)!

Who stays there?
Like-minded travellers such as yourself, and some not so like-minded. This can make it interesting especially when striking up conversations with other people. The age of people staying can vary but generally speaking you're likely to find people in their 20's / 30's exploring the open road.
Where do I sleep?
You'll normally find yourself in a dorm room – where you share a room with others (this can vary from a 4 bed dorm to 16).  This is a good thing as you will meet other like-minded travellers.
However, if you want a little more privacy, some hostels do provide private single and double rooms (costing a little bit extra of course).
What's in a room?
Your bed, linen and pillow are all provided. Make sure you check your room for power sockets as soon as you get there as some rooms don't have them (but most do), which is a nightmare if you want to watch a film or charge your camera battery.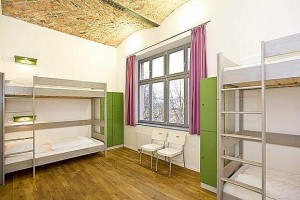 Do I have to share a bathroom?
You'll most likely be sharing a bathroom with others in a hostel unless you get a room with an en suite. Don't worry though, they get cleaned regularly and in most cases are just as good as a hotel bathroom.
Remember to bring your own towel, shampoo, toothpaste etc. Hostels are basic accommodation so in most cases don't provide these 'luxuries'.
Is it safe / Is there security?
Hostels are safe and most hostels provide you with a locker, or there will be a safe in the hostel where you can store anything that is really valuable. If you pick up some travel insurance and don't carry stuff that is too expensive you won't have too much to worry about anyway.
Is there a kitchen? Can I get food there?
Let's face it, eating out every morning, day and night can be pricey. Some hostels provide kitchens for you to cook so if you're travelling on a shoestring you can salvage your budget. Kitchens have all the basic necessities for you to use – but make sure you clean up after yourself – you don't wanna piss off everyone leaving your dirty leftovers lying around.
Some hostels even have a restaurant where you can buy food quite cheaply too.

Do they have a curfew / lockout time?
Always check with curfews when booking your room – as some hostels won't let anyone in after a certain time (say 11pm) – not such a good idea if you're partying 'til the wee hours and then can't get back to your room.
That being said, most hostels will have a key card, pass code, or a secret hand signal for you to come and go as you please but best to have a check first!
Internet… I need the Internet!
Most hostels are keeping up with the times and internet is usually readily available. Some even have wifi so you can access the net from your room (if you brought a laptop or smartphone). If you don't have an internet device with you, there is usually a communal computer or two kicking around the hostel but you may have to wait around to use it as other will want to email their mum too!
Do I need to bring a sleeping bag?
Linen is provided so you don't need a sleeping bag. Sometimes, you could use one though if you're going somewhere cold as they aren't always the thickest sheets!
Are they really all dirty? Will the bed bugs bite?
No not at all – in fact some hostels are cleaner than hotels. That being said it probably depends on the hostel you are staying in and how much you're paying.
Horrible misconception about the ol bed bugs. In all my travels I've never experienced bed bugs and I have stayed in some low low budget places – nothing to really worry about here.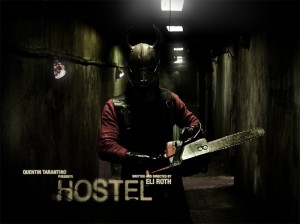 What Do I need to stay there?
You'll need some identification when you stay at a hostel, just flash them your passport and you'll be good to go. If you booked online, you'll need to show them the card you booked with too.
Common Rooms
Most hostels have a common area where you can sit and relax. Some have book swaps or bulletin boards with jobs, stuff for sale and the like. Common areas are good for meeting new people and you're almost definitely going to strike up a conversation or two with some other peoples backpacking.

Is there a maid to clean the room?
You won't get a daily maid service like a hotel but the rooms will be made up and sheets changed once or twice a week.
Hostels are a great way to save the pennies, meet new people and for info on what to do and see in the area.
If traveling alone, don't be worried about staying here it will actually be better than staying in a hotel as you can meet many new people. Also, girls fear not on the cleanliness they're really not as bad as some make out! J
OK, so there you have it a quick rundown on hostels and everything you need to know for staying in one. If you have any questions about hostels, drop us a comment and we'll (hopefully) be able to answer.
Enjoy your future accommodations!
Duff