The largest city in Spain, Madrid is best known for its cultural and artistic heritage. The capital city of Spain also boasts some of the best nightlife in the world with famous DJs regularly spinning their discs most weekends, not to mention there is also a seemingly endless supply of awesome vacation apartments in Madrid
With a continental climate, dry with long hot summers, Madrid is perhaps best visited during the Spring and Autumn, which are mild.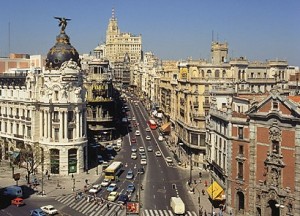 Spain's capital is dominated by its Royal history; Madrid is the centre of the Spanish Empire and the Royal Palaces, cathedrals and churches are in abundance here.
Madrid was the capital of the Franquist dictatorship which dominated Spain from 1939 to 1975, and the city is still seen to represent the conservative side of Spain.
However this representation is outdated, in the 1980's Madrid was at the heart of the famous Movida movement. The heritage of this era is still visible in the city centre where it is now known for its liberal and gay friendly environment.
With a huge number of bars, Madrid has a wicked nightlife. Madrilenos, as Madrid citizens are known as, often stay late. The Gran Via is often packed on weekend nights. Staying for weekend? Find good apartments in Madrid.
As with many other major cosmopolitan cities, Madrid has a range of neighbourhoods. From the young and hip Alonso Martinez, which caters to the young crowd, to the artist neighbourhood of Barrio de las Letras, where many of Spain's famous writers lived.
Chueca is Madrid's gay district, trendy designer shops and cool cafes can be found here. While Tribunal is known as the capital city's alternative area, cafes, bookstores and rock clubs thrive here. Many are leftovers from the Movida movement.
The city's university district, Ciudad Universitaria, is the area where unsurprisingly many reside. The area is known for cheap bars and a thriving nightlife which kicks off every Thursday.
For art lovers, the Avenue of Art also known as Paseo del Arte, is a must visit. The Prado, Reina Sofia, CaixaForum and Thyssen are located in this part of Madrid.
Visitors can purchase a 'Tarjeta anual múltiple' for 35 euros which allows tourists to visit these three museums as many times as they require during a one-year period.