Spending a day in a big city like Sydney makes you think long and hard about your time, what to do, where to go and what to spend all that cash on. That being said, spending a day in Sydney doesn't mean you have to spend a lot by doing touristic things, it can mean just walking along the paths dotted around major scenery or just hanging around some of Sydney's many beautiful parks (read: drinking cheap Australian wine outdoors with friends). If you have a day to burn and want to experience Sydney in 24 hours, read up as we have listed a full day of itinerary for you: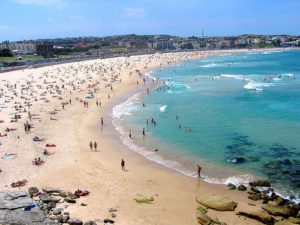 Sydney in 24hours:
Ready for this?! Get your walking boots on, it's gonna be a long day….
You can start your day by having an awesome breakfast for fuel at Forbes and Burton, located in the junction of Taylor Square.
Up for some art next (at least pretend your cultured)! head down to Oxford Street until you arrive at Hyde Park. Here, you can stroll along the Art Gallery Road to Mrs Macquaries Chair and never miss a chance to pass by famous Sydney Opera House, with a great chance for a pic or two.
Walking through these places will give you the best that Sydney can offer. Hop on to a ferry to McMahons Point at Circular Quay and find the Sails Restaurant at the terminal as there you can get the best view of the Opera House, Luna Park and the Bridge while enjoying a hearty lunch meal.
After lunch, visit the most famous walking trail in all of Sydney , the Bondi-to-Bronte coast. Aboriginal rock carvings are also a great sight to see in the south of Mackenzies Point while you're down there. But remember to get a map to make your traveling much easier.
If you are already in Bondi, don't miss to take a quick dip in the ocean or pay $4.50 to enter the Bondi Icebergs pool to relax and go experience the best sauna in the world afterwards (big shout, I know). Visit the Kitschy Garden and play with their oversized chess tables or have a picnic with a bottle of wine after a long day.
Dinner time is coming up. Since you already had a filling lunch, dinner should be chill, unless you are super starving. You can head to the Bootleg Bar and Italian Food, here you can find locals savouring dinner in a New York scenic restaurant and have a look at their long wine list and great food. Time to hit the sack, unless of course that booze is running through your veins?
If that's the case, head down to King's Cross for a few cocktails, Hugos and World Bar are banging most nights of the week. Just don't plan for an early start tomorrow!
What a way to end the day enjoying the best of Sydney in 24 hours. Find yourself some flights to Sydney and explore Australia's most famous city!